Henry L Lazarus
4603 Springfield Ave.
Philadelphia, PA 19143 HOME

Science Fiction for December 2014
by Henry Leon Lazarus
Science Fiction and Fantasy frequently come in series form. Sometimes one huge book is broken up into parts, sometimes, as in mysteries, one character is confronted with different cases. The best type is where the writer finds fun tales in a shared background, frequently at different time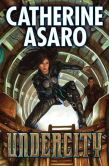 Catherine Asaro returns to her Skolian Empire universe with a tale set over a century before the main tales of the Ruby heirs. Retired Major Bhaajan grew up in the Undercity (hard from Baen) of Cries where she had run away from an orphanage at age three and was self-educated well enough to enlist. She was happily settled on another world, Pathonia, working as a P. I. When a case involving the disappearance of a Ruby heir brings her home. But finding the heir is only the first part, though it reintroduces her to childhood friends. There's also stolen weapons, a drug that only effects psions that is causing havoc in the undocumented underworld of the ancient city, and a drug war. Bhaajan is in the right place to finally save her forgotten people. Wow!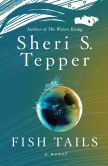 Sheri S. Tepper started her career thirty years ago with a triple trilogy (all short by today's standards) about Mavin Many-Shaped who can reform herself on a world settled by humans who have been given many powers. Twenty years ago she told a tale set after the killing when ninety percent of humanity had died because of their beliefs. Now in her final feminist, atheistic work, she looks at an earth being drowned by water sent through a worm hole from another planet. Abasio and Xulai are taking their children (born with Fish Tails (hard from Harper Voyager)) across an empty world settled with survivors of the killing. Survivors who kept their technology, Edgers, have created Giants, Trolls, and Griffins to complicate their journey. Griffins are intelligent and want to be saved from the waters, but the only male is murdering all their young, especially other males. Along the journey they pick up a boy, Willum from a civilized town, and a girl, Needly who comes from a town where the women are abused and she is supposed to be sold to one who murders them when they reach puberty. The Edgers have a plan that involves creating man-eating ghouls working with Gangers who would rather steal than build. Then at the end a galactic envoy, Mr. Fixit arrives with Mavin and her daughters to help fix everything. My problem is that there is a deus-ex-machina feel to the ending even though the characters have to do some of the work themselves. This final work is Ms. Tepper's attempt to make a statement and sometimes that gets in the way of the story. I still think this will make it to award nomination.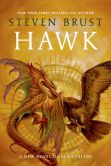 For over three decades Steven Brust has been working on his nineteen volume fantasy/ gangster series about Vlad Taltos, a human in the Dragaeran Empire, most of whose inhabitants have a life span of two millennia. In the fourteenth episode, Vlad has to think like a Hawk (hard from Tor) to concoct a scheme to finally get the Jhereg to stop trying to kill him. Properly contrived, the scheme is fun. In a few years we'll find out what Vlad does next.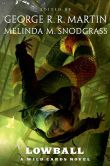 Just after WWII a deadly alien virus rained down on New York. The survivors were either warped into strange shapes called Jokers or got superpowers – or both. In Lowball (hard from Tor) we return to Fort Freak, the police station in Jokertown where Jokers are being kidnaped. Even the Marcus, the snake man with the poisonous tongue, and Father Squid, the priest of Jokertown are captured. On the case is Franny, a recentl- promoted, nat detective, and Michael who lives with two joker girlfriends. On the case also is Jamal Norwood, aka Stuntman whose abilities are not at full strength. Showing up for cameo's are famous wild cards like Croyd (created by the late Roger Zelazny). As usual George R. R. Martin and Melinda M. Snodgrass whip the eight authors into a readable novel. I've been hooked on the series since the beginning and always hope for more.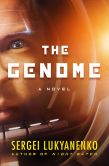 Sergei Lukyanenko tells a tale of the far future in which master pilor Alex Romanov finds a position as Captain of a small vessel taking alien tourists around human space. Like many people he is a spec with The Genome (paper from modification that allow him the ability to do his job. He has just recovered from being sliced in half from a weird accident. He meets Kim Ohara, a teenager on the run undergoing her metamorphosis into what he learns is a rare secret-agent spec. When he gets his position he hires her on as a weapons specialist along with a doctor from a xenophobic planet, a navigator who is a rare normal who can do the job. Then one of the tourists is murdered, a Czygu female of such high rank that her death means war between the Czygu and humanity if the assassin cannot be found. A clone detective who likes to call himself Sherlock Holmes comes aboard to solve the ultimate locked room mystery. Alex, however proves the better detective. Fun. This was originally written in Russian and there is a prequel and sequel avail if this does well.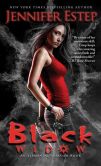 Gin Blanco is back and facing a Black Widow (paper from Pocket by Jenifer Estep) with poison magic. M.M. Monroe is the daughter of Mab, Gin's nemesis for the first five books of the series. Gin, known as the spider, is an assassin with both stone and ice magic. M. M attacks Gin's family with legal papers and gets Gin arrested so the police can murder her in their dark cell where they put prisoners up against other prisoners. But sending five against the Spider isn't enough - and she escapes only to be trapped inside her burning restaurant with police and fire trapping her inside. I've enjoyed all of these and am waiting eagerly for the next.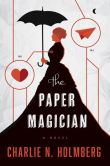 Charlie N. Holmberg has a cute set of tales set in a Victorian England with magic. Magicians are bound to human-made material and have control over things made with that material. Ceony Twill graduated from the Tagis Praff School for the Magically Inclined and is apprenticed to Emery Thane, The Paper Magician (paper from 47North). Think origami with the ability to bring the folded paper to life. Mr. Thane is nice enough, but has an ex-wife who can work excision magic (magic using human blood) and she comes and literally steals Emery's heart. Ceony has the presence of mind to make a paper heart and then chases after Lira. Unfortunately she ends up in a figurative version of his heart and has to view his memories, hopes, and disappointments before winning free and facing Lira.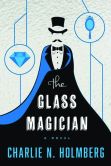 Her survival brings her to the attention of other evil magicians and one of them is Grath, The Glass Magician (paper from 47North) helping her is another apprentice, a friend learning glass magic. With glass one can walk through mirrors and she finds herself in France with no money and no way of getting home. Grath is searching for a secret of magic that is truly dangerous. Both books are light fun. I gulped them down and can't wait for a sequel.

I follow Drew Haye's website eager for the third installment of his tales of a college certification program for superheroes. While the Junior year tale is almost finished, Drew has extra, unrelated tales like Topher Nightshade vs. The Camp of The Undead Apocalypse (ebook). Topher and his two friends run Specter Quest, internet psychic investigators who have never found a real ghost. Invited to the haunted Camp Tekonichia, they don't know of the three ghosts trapped there, or of the wraith who, with an ancient ceremony, wants to bring the dead to life. Then August Parish, his technical genius, has his body stolen by the Wraith and becomes a ghost. As the elements of the ceremony continue, ghosts start appearing and a Medium, Velt who can kick wraith ass shows up. Velt has an extra story at the end of this fun adventure.
Mike and Rachael Grinti tell a tale of Islanders whose magical ships made of coral allow them to cross the great ocean. They use these ships to attack the main land and bring back plunder. Jala is given a book taken as loot as a gift to her for her wedding to King Azi, a second son who only became king when his brother was killed. Neither of them know that the book is holy to some of the mainlanders, but find out when the islands are attacked. The only way to end the war is for Jala to take the book back to the Heshon city, and bargain for peace. The city is ruled by magical mask wearers eager for war. The only way to stop the war is to put on one of those mask. Jala's mask (trade from Prometheus Books) links her to the water goddess, trapping her in the city. This is a unique fantasy world.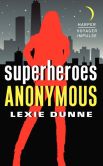 Finally we have Lexi Dunne's beginning of the tale of Superheroes, Anonymous (paper from Harper Voyager Impulse) which tells the tale of Gail Godwin who has been rescued by the superhero Blaze so often she's gotten the title of Hostage Girl. Then her boyfriend breaks up with her while she is recovering in the hospital and moves to Florida, as does Blaze. That gives her eight months of freedom until Moebius, an evil, mad scientist, kidnaps her and feeds her a serum designed to make her into an addict to control Blaze. But Blaze never rescues her and when Moebius throws her into the street, she finds her body changing to give her new strength and healing ablity. In a bank, at the wrong time, she confronts super-villain Chelsea which brings her to the attention of the Super Hero organization where she is trained and meets Blaze without his mask and also her boyfriend who programs for the organization. Alas the tale has a cliffhanger ending leaving me disappointed, and still hungry for more.
Fans of True Blood based on the Charlaine Harris tales of Sookie Sackhouse will enjoy Dead But Not Forgotten with tales written by other writers and edited by Ms. Harris and Toni L. Kelner.S
Tor has reprinted Brandon Sanderson's fun trilogy Mistborn; The Well of Ascension; and The Hero of Ages in paper. I still own the hard covers. George R. R. Martin's short, children's tale of The Ice Dragon has been reprinted in hard cover with illustrations by Luis Royo.
Harry Harrison Harry Harrison (hard from Tor) is the memoir of the late author known for Soylent Green and the Stainless Steel Rat tales. Tor is also putting out many titles as ebooks. These include Star Bridge by Jack Williamson and James Gunn: The return of a classic, high-concept space opera by two SF Grand Masters. The Land Across by Gene Wolfe: A novel of the fantastic set in an imagined country in Europe by the SF Grand Master, one of Kirkus Reviews Best Books of 2013! The Traders' War by Charles Stross: An omnibus edition of the third and fourth novels in the Merchant Princes series which is also available in trade. The Ninth Talisman by Lawrence Watt-Evans, the second book in the Annals of the Chosen trilogy. And Transcendental by James E. Gunn, a Recent Book by a Golden Age Writer.
The Soprano Sorceress L. E. Modesitt, Jr.: The first novel in L. E. Modesitt, Jr.'s fantastic Spellsong Cycle is now in trade paperback for the first time.
The Science Fiction Society will have its next meeting on, December 12th 2014 at 8 p.m. at International house on the University of Pennsylvania Campus. Children's fantasy author Craig Delia Sherman will speak. As usual Guests are Welcome.
Dr. Henry Lazarus is a local Dentist and the author of A Cycle of Gods (Wolfsinger Publications) and Unnaturally Female (Smashwords).