Henry L Lazarus
4603 Springfield Ave.
Philadelphia, PA 19143
Science Fiction for November 2010
By Henry Leon Lazarus
Monsters. Think of all the monsters in fiction like Frankensteinís creation, vampires, werewolves, and things that go bump in the night. Blobs of flesh, and blobs of gelatin can be scary and friendly, both in the same story. Halloween is over, but the nights are growing longer and nightmares are no longer easily banished into the warmth of summer.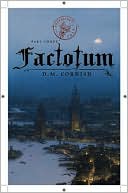 D. M. Cornish, finally, has given us his completion to the tale of Rossamünd Bookchild.who grows up in a world filled with monsters He was a Foundling (paper) raised in an orphanage. His first job was as a Lamplighter (paper) banishing the darkness on frontier roads to keep monsters away from travelers. Now he is Factorum (trade from Putnam) to a monster killer, the Duchess-in Waiting Europe as she returns to her home in Brandenbrass, and sets off on several monster hunting expeditions. By now Rossamünd has learned that not all monsters are problems for people, and in fact that he too is a monster in human form (or is it human made from monster parts) He also has learned of princes of monsters who frequently live quietly among humans, some of who are so powerful they cannot be destroyed. In the city the Duchess has enemies who will entrap her and if they learned about him, all will be lost. D. M. Cornish has a marvelous way with words, frequently coining odd variations of normal words. It gives a flavor of reality to this strange world. Highly recommended for all who like a bit of challenge in their reading.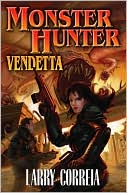 You canít get more monsters than the world shown by Larry Correia and the professional MHI crew. Government agents desperately trying to keep the secret of monsters from the public donít know what to do when an ex-pro goes on a Monster Hunter Vendetta (paper from baen) hoping to throw Owen Zastava Pitt (Z to his friends) to one of the Lovecraftian monsters who thinks Z dropped an a nuke on its universe. Add in Zís parents and a rock star brother for tension, and Z is facing impossible odds again. What else is new? I love this series.

Sandman Slim (paper) came back from a decade in hell to throw his enemy there. Now heís bored, killing monsters for the Golden Vigil, a government task group. Lucifer then claims him as a body guard, It seems that someone is making a movie of Satanís life and wants the ultimate consultant. Then zombies start walking LAís streets and, as Richard Kadrey tells it, itís a case of Kill the Dead (hard from Eos) or be killed. Add in a Zombie-killing, porn star and a sapient Zombie who likes eating raw pig, and our hero has his hands full.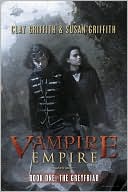 To Clay and Susan Griffith, the Vampire Empire was formed 1870 when these hidden parasites (separate species) came out of hiding to conquer the northern climes. When Princess Adele, of the human empire based in Alexandria, is sent on a tour of some northern kingdoms, vampires attack her protective fleet of dirigibles, and eventually capture her, despite the efforts of the strange adventurer, vampire killer called The Greyfriar (trade from Pyr). Even though she manages to kill some vampires, she is taken to England where a king in dotage (800 years old) has two sons waiting for his death. One of them, Prince Gareth, is actually enamored of humans and provides help to the princess while her fiancee from American is trying to rescue her. This is the first book of a trilogy with a lot of promise and I enjoyed the formidable heroine and the pulp action that kept me glued to the page.

Cherie Priest got a hugo nod for her steam punk tale of Tacoma covered with a poisonous gas that could be turned into a drug, Sap, and a full strength zombifies people. Mercy Lynch is a confederate nurse working in Richmond when she receives a letter from her erstwhile father in Tacoma at the same time she learns of her husbandís death in Andersonville. So she decides to travel across war-torn America, by dirigible, boat, and finally on a train pulled by the infamous Union war engine, Dreadnaught( trade from Tor). The Union is shipping gold to the west and doesnít mind carrying passengers. But Gold is the lure that sends a rebel train after her and both into a fight with mexican soldiers zombified by the gas used to make the addictive drug SAP. Mercy is a practical voyager, always willing to help with the nursing supplies she always carries and rarely losing her head. I liked this tale much more than the first book and fans of the first tale will only find cameos of the characters from the first tale at the conclusion of this. Fun.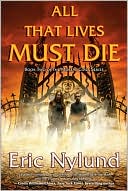 Eric S. Nylund continues his tale of twins Fiona and Eliot Post, children of Lucifer and the goddess Atropos, who were accepted as children of the gods in the first book. Now, as a way to learn All That Lives Must Die (trade from Tor which I bought in Kindle form) they have to go to a neutral school in the war between demons and gods. Paxington students not only have book learning, but gym is a game where team has to get enough of their team through a maze to their flag before the other team and anything goes in trying to stop the other team. It doesnít help that their uncles sometimes take them out for excursions to hell, or that one of their teammates who Eliot has fallen for, is fighting to save her home in hell. Lucifer has his own plans and Mr, Nylund loves to mix classical mythology with demonic mythology in a fun mix.
As I was finishing this column, Ace sent four must reads and I managed to get through three of them in three days.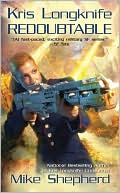 Mike Shepherd tells of Kris Longknife: Redoubtable (paper) in finds the princess is still hunting pirates on the edge of the Peterwald empire which has huge economic problems (partially due to attempts on Krisí s life in previous books). She is also carrying food for planets literally starving because of a huge influx of refugees from the Peterwald planets. After taking out a torturing dictator on one planet, Kris follows the trail to a major Peterwald, where with the help of the local authorities and Victoria Peterwald former enemy now friend) she tracks down a pirate base farming narcotics with slaves (including one of Krisís kidnaped friends). The usual fun ensues. This series always goes to the top of my reading list.

Jack McDevitt started his career with a tale of Alex Benedict who hunts ancient antiquities to find relics for sale about eight millennia from now. His latest starts with garden stone with strange markings found at the house that used to belong to a man who had spent his entire life hunting for aliens among the various empty worlds. Someone is trying to block Alexís investigation and wonít stop at murder. Another person who knows the story actually suicides when she finds out about the investigation. It all has to do with an expensive sight seeing tour group that took people out to see comets and ringed planets and other beautiful sites. What they found is in a star system they called Echo(hard) and it wasnít aliens.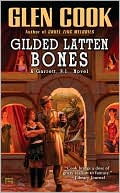 Finally we have the first Garret tale in a while. Glen Cookís fantasy/mystery tales use the Nero Wolfe form with the dead man who isnít a man and who will be mentally active for centuries is the thinker of the pair. Garrett, who had left the dead man for Tinnie and who gotten out of the Private eye business, is brought in when his best friend Morely Dotes is left for dead. Who is still trying to kill Morely before he wakes from his coma? Why is the investigation into a warehouse filled with dead bodies being quashed at the highest level. Will Garrett get back with Tinnie who resents him taking a case? What about the powerful fairy windwalker who says she wants to marry Garrett? It all has to do with Gilded Latten Bones (paper).

Maria V. Snyder tells how Opal Cowen lost her glass magic in the last tale. Now she remembers that the villains took some of her blood, blood that might help her recover her magic. She can still detect magic and it has no effect on her. She also has the diamonds that her magic became, so doesnít have to worry about money. Her boyfriend is out on the plains dancing storms away, so she has plenty of time, especially since her mother is working hard at preparing Opalís sisterís wedding and driving her nuts. So first she has to break into the prison where her enemies are tightly locked up. Then the trail leads to a mine for magical diamonds, and then she is captured by a man who uses blood magic to control her. In between she runs into old friends and trained by the spymaster Valek who gives her a Spyglass (trade from Mira books which I bought for my Kindle App) . This is a nice solid ending for this fun series.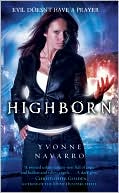 Yvonne Navarro uses demonology as a background for her tale of Highborn (paper from pocket) Astarte who, after millennia in hell, decides it is time to seek redemption on Earth. With Luciferís hunters after her and, as a wetness to an execution of a half-angel nephilim that God puts on Earth for one thing. Luciferís demons are there to destroy them, but canít touch them directly. Thereís a human detective trying to catch the killer, with no idea of why the victims are being chosen. I like the way that Astarte, now known as Brynna finds a way to fit into an Earth she isnít used to and the nice love affair between her and the detective doesnít overshadow the plot. I devoured this in a day.
Maria Lima continues the tale Keira, now with the full Kelly abilities, and heir to the Kelly clan. She comes back to Rio Seco Texas and her vampire lover to become leader of the para-normals in the area. That includes a werewolf pack that is under attack by a local religious hate group. In spite of the villains being a little obvious to the reader, Keira needs the time to do the detective work and also more werewolves die, necessitating a
Blood Heat ( paper from Pocket) to clean thing up. Pleasant reading, but not too original. If youíve been following the series like I have, youíll enjoy this one.
Wynter Moorehawke returned home with her father, a master carpenter and close friend to the king, after five years away to discover The Poisoned Throne (paper) with the kingís son and heir in rebellion and the talking cats poisoned. Even though her father is dying she sets off across The Crowded Shadows (paper) of the kingdom to confront Alberon and try to set things straight. Joined by the princesís half-brother Razi, who the king thinks dead, and his close companion Christopher they are hunted by slave taking werewolves and helped by the gypsy like Merron (with a dark religion). Finally they reach the camp of The Rebel Prince (trade from Orbit) only to find that Alberon is trying to do his best for the kingdom in ways his father wouldnít approve. He has opened his camp to many of his fatherís enemies, including the werewolves. If he hadnít been so obstinate, there wouldnít have been a rebellion (which I feel is a cheat). Thereís also a horrible weapon that Wynterís father had designed that killed children. Somehow I also felt cheated by the big secret of a Gattling gun, which I think the medieval world, which saw nothing wrong with looting and pillaging, would have relished. Celine Kiernan is an excellent writer and draws the reader deep into the tale, creating memorable characters. I just felt let down by the minor secrets driving the plot.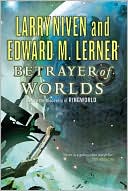 Larry Niven and Edward M. Lerner introduce us to a relatively young Louis Wu in the continuing prequel to Ringworld. The villain this time is a mad puppeteer who thinks nothing of manipulating the starfish like Gwíoth in an effort to scare the fleet of world into making him their leader. This Betrayer of Worlds (hard from Tor) reacts so differently than other members of his species that he almost seems like a melodramatic villain. Larry Niven fans will be satisfied and the action is fun.
Baen has a number of collections this month. Fred Saberhagenís tales Of Berserkers, Swords and Vampires (paper); new modern vampire tales edited by Esther Friesner, Fangs for the mamaries (paper); Tales from the late Robert Asprin, Myth-interpretations (trade), and classic Christopher Anvil tales with one novel, The Power of Illusion (trade).
Philcon 2010, the local science fiction convention, comes on November 19-21 at the Crowne Plaza Hotel in Cherry Hill, NJ. Peter S. Beagle (The Last Unicorn), will be the principle speaker. Preregistration for the weekend is $40 through at least November for adults , but you can buy day passes at the door. Iíll be there.
Dr. Henry Lazarus is a local Dentist and the author of A Cycle of Gods from Wolfsinger Publications which can be bought on Amazon.com.