Henry L Lazarus Home
4603 Springfield Ave.
Philadelphia, PA 19143



Science Fiction for July 2014
by Henry Leon Lazarus



The new world of Science Fiction and Fantasy publishing includes not only established publishers, but also self-published ebooks and small publishing houses that couldn't have survived even a decade ago. While there is an overwhelming amount of unreadable junk in the pile, even from established publishers, there are true gems available that I find simply amazing.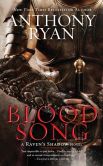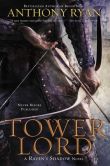 Anthony Ryan started by self-publishing. Good reviews and a friend got him to Ace Books where his amazing fantasy world has become more available to the public. Like the Game of Thrones, Mr. Rayn posits a mediaeval world with rare, minor-magic talents, usually in the form of talents like telekenesis and pyrokenesis referred to as the Dark and thought evil. One continent has a combined realm that believes that souls go to the great beyond, and is willing to murder those that of other beliefs. Vaelin Al Sorna, son of the Battle Lord has the talent of Blood Song (paper) that points him to the best path. At ten his father gives him to the sixth order, an order devoted to war. There he grows up faces several assassination attempts and eventually leads Realm troops in a disastrous war against the Alpiran Empire that dominates another continent. Five years later he is released from the Emperor's prison and the new king of the Realm makes him the Tower Lord (hard) Unfortunately the Volarian Empire, with a slave-based economy decides to use treachery and the weakness of the new king to invade seeking slaves.. Add in the fact that three souls have returned from the Great Beyond, using the shells of people on the edge of death and they are willing to do anything for someone they call the Ally. Pulse-pounding and impossible to put down, I can't wait for the conclusion.

Django Wexler envisions a Napoleonic Era world in which magical abilities come from binding to a demon. The first tale introduced our heroes in a far colony where the military genius Janus has to not only win against overwhelming odds but also find The Thousand Names (paper) of demons. Coming home with Colonol Janus, Captain Marcus and Lieutenant Winter find themselves thrown into a French style revolution. The King is dying and the future Queen has a deep secret. She has been bound to a demon that restores her no matter how bad the wound. The Last Duke, head of spies and torture for the kingdom wants to rule from The Shadow Throne (hard from ROC). So Princess Rasinia has been sneaking out of the palace and working with a revolutionary cabal. They are helped by a mindless fool cursed with huge charisma who can repeat anything told to him. I really loved the attack on the Vendre (like the Bastille) and the council of deputies who would rather argue than actually act. Lots of fun with more to come.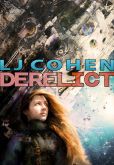 LJ Cohen has a far future tale of four teenagers whose parents work on a station far away from civilization. A Derelict ( paper from Interrobang Books which I bought electronically) starship left over from the last war sits next to the base for extra storage. Rosalen Maldonado may be an engineering genius able to fix anything on the base and most of the ship, but she doesn't realize that her father and an ex-senator have smuggled guns and stashed them on the ship. Caught up in the fascination of trying to repair the ship's AI with another friend Jem Durbin, son of two of the Physicians on base, she is surprised when the ship suddenly takes off. On board also is Jem's brother Barre whose musical talent doesn't impress his parents, and Micah Rotherwood, son of the Senator and budding plant biologist. They not only have to get the AI under control (it takes music) but also deal with Ro's father who is determined to get his smuggled guns to his buyer and doesn't mind if the kids die. This is well-designed future that feels quite real and impossible to put down. I gulped it down in a day and looked for other books by this author.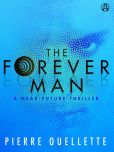 Pierre Ouellette sets his noir thriller in the near future after America's economy has collapsed. But there are still the very rich who want to stay young no matter what it costs. The Forever Man (ebook form Alibi) is the result of a very-rich, old man willing to pay to create the genetic engineering necessary, and ruthless enough to kill any that learn the secret. Contract cop Lane Anslow gets involved when his genius brother, the lead researcher in the project, somehow survives the attempt on his life and ask Lane for help. The trail sends Lane through gated communities filled with people who look half their age, and into the entourage of a populist politician preaching hate. Very exciting and hard to put down.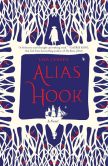 Once Upon a Time (tv) visited Neverland last season it was ok. Lisa Jensen's take on the pirate Alias Hook (hard from Thomas Dunne Books) is different with Hook cursed to never die. It's been centuries since he sailed there cursed by a Voodoo Priestess. His original crew is long dead, replaced by former lost boys who are soon killed by the current lost boys. Then an adult woman, Stella Parrish, arrives confounding Pan and confusing the Indians and the Mermaids. This a lushly written tale of love and redemption set against the classic J.M. .Barrie's play and novel.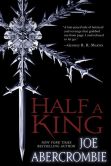 Joe Abercrombie has a fun tale of a Prince Yarvi born with birth defect, an unformed hand. When his father and brother are murdered, the prince, in training to become an advisor, finds himself Half a King (hard from Bantam Spectra). His uncle has other plans. Yarvi barely survives the attempt on his life and ends up a galley slave on an old ship, where he meets new friends who eventually help him get revenge when they escape. This is a strong tale of survival against all odds, of finding friends in odd places, and of discovering that even an innate weakness can be overcome. I gulped in down in a day.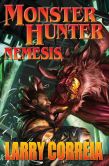 Frank, also known as Frankenstein's monster (apparently from the castle not the creator) is in trouble. He's been fighting monsters in the U.S. Monster Control Bureau since Benjamin Franklin recruited him but his contract calls for no other versions of him created. In Larry Correia's sixth tale of Monster hunting his Monster Hunter Nemesis (hard from Baen) is a boss with dreams of power who never realizes where the souls of monsters like him come from. Soon he's on the run from his own agency and the President is convinced he is a potential assassin. Lots of the usual romp, and heavy action ensue. I love this series.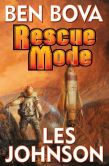 An ancient, classic trope in science fiction is having a ship go into Rescue Mode (hard from Baen) after being hit by a meteor. Ben Bova and Les Johnson do that to a NASA expedition to Mars with a crew of eight, mixed men and women. There's the excitement of survival and the politics of funding a second expedition to keep the excitement going. Both writers are very familiar with space engineering that makes the tale feel realistic, though I think the time for Government funded space exploration has passed. There's plenty of room here for a sequel.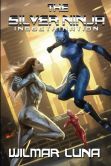 Wilmar Luna continues his fun comic book style adventure of the The Silver Ninja: Indoctrination (paper from Createspace) in which Cindy Ames has to wear the suit again after her husband's extremely dangerous work is taken by the Government. But retrieving the hard drives are made worse by when she and her sister Jadie face Alexis, CIA assassin with her own Saphire suit. But the real villain is the CEO of Zhu Feng Medical which has invented a mind control drug to use on New York City. Soon Cindy and Jadie are saving lives when bombs go off all over the city, and fighting Alexis who has been convinced they murdered her family. The neatest toy is a motorcycle that uses nano-technology to turn into a small plane. Just don't try to think about the physics of the various fights. Lots of fun. I suspect more adventures are coming.

R. S. J. Gregory twists the classic trope that exposure to special meteorites can give super powers. Britney was crippled in the car crash that killed her mother. Then on a School trip to Washington, she and the rest of her group were kidnapped, and supposedly died. But instead they are experimented on. The exposure to the meteorites not only cures Britney's paralysis, but gives her and her surviving classmates super powers. After they breakout and go home to Chicago they figure out how their super powers work. All of them are fast and nearly invulnerable. Britney can also fly. One of her friends is a telepath, another can create electric bolts. Soon they decide to have costumes and start saving people while looking for the person who experimented on them and murdered their teacher and some of the other students. Cosmic Girl: Rising Up (paper from Amazon Digital Services which I bought electronically) is fun. I especially liked the scene where she has to avoid jets while carrying Beth to New York City to investigate leads. I'm eagerly waiting the sequel.

Emily, who was brought from our world to a fantasy world because she was a daughter of Destiny (her actual mother's name) and because she had magical potential. She killed the Necromancer who brought her in the first tale when he attacked her school, but she also made friends with Alassa, an heir to Zangaria. As Christopher Nuttall tells it, Emily needs Lessons in Etiquette (ebook from Twilight Times Books which I bought) as she goes on tour with Alassa who is visiting potential husbands. Being declared the heir in her home castle is too much for someone who will do anything for power. As usually for Mr. Nuttall, this provides for an exciting ending.

Joel D. Babbitt starts his tale of Razz, a winged, clanless person who is adopted by a Clan Lord (paper from Warhorse) who claims him as his bastard son. The real reason is so that he can take the real son's place in a duel to the death with another Clan Lord. It's s short, fun tale that allowed Razz to survive and go on to other adventures.
William H. Patterson, Jr. has the second half of his biography of Robert A. Heinlein The Man Who Learned Better (hard from Tor). It is massive.
Baen has reprinted in trade two of Sara A. Hoyt's early books as Night Shifters in trade as well as the sequel written years later, Noah's Boy in paper. Also the Hugo nominated Warbound by Larry Correia, and John Ringo's zombie war tale Under a Graveyard Sky in paper. There's also a trade edition of Mercedes Lackey's tale of The Fire Rose written in the 90's.
The Science Fiction Society will have its next meeting on, July 11th 2014 at 8 p.m. at International house on the University of Pennsylvania. Campus Keith DeCandido, known for his star trek novels as well as his Dragon Precinct tales, will speak. As usual Guests are Welcome.
Dr. Henry Lazarus is a local Dentist and the author of A Cycle of Gods (Wolfsinger Publications) and Unnaturally Female (Smashwords).