Henry L Lazarus
4603 Springfield Ave.
Philadelphia, PA 19143

Science Fiction for July 2012

by Henry Leon Lazarus

In America, very few authors cross the divide from normal fiction to the Science Fiction and Fantasy genres. For one thing their books will get filed in a different area of book stores and for another their fans might not like the new approach.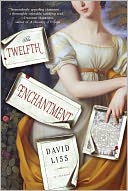 David Lissís fans hated his inclusion of fantasy into his latest historical tale of Regency England at the time of the Luddite rebellion. Lucy Derrick, like all Jane Austin heroines, is on the low end of the upper class, living on sufferance with her uncle and engaged to a factory owner she dislikes. She, however, has a talent for magic that is found when Lord Byron shows up at her house with a curse on him. Be she gets training from a neighbor who has access to magical books that her talent allows her to use correctly. Soon she is hunting all over England for The Twelfth Enchantment (trade from Balentine books) to save her niece whoís been replaced by a changeling and save England itself from ancient revenants, people who have used magic to become immorta. This would have been nominated for awards if the fantasy world had found it.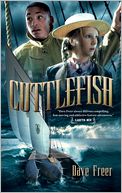 David Freer has a tale set in an alternate 1953. A short first world war and a thawing have left England in control of the seas. Submarines smuggle goods in and our of blockaded cities including London which is partially underwater. The Cuttlefish (trade from Pyr) is a neat submarine that navigates the deep sea with sails and hydrofoils but dives to avoid detection. On board are Clara Calland and her mother, a chemist hunted by the British who will stop at nothing to kill her to keep her idea for artificial nitrite secret. Tim Barnabas is the cabin boy who helps her search for spies on board. Thereís definately a Treasure Island feel to this fun adventure that also includes every submarine trope Mr. Freer could think of. Lots of fun for all ages.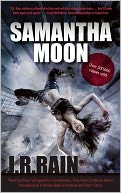 J. R. Rain was a P.I. and knows the field. Samatha Moon (paper from BenBella Books) was an investigator for HUD until an attack left her unable to go out in the sun. She is still raising her two kids and buying her blood from a butcher. In these first four tales she handles some private investigations, gets a divorce from her cheating husband, and meets other vampires. She is so fascinating that I immediately went and bought her next adventure Vampire Dawn for my kindle app which has her hunting a murderer who supplies blood for vampires. I canít wait for the next adventure.

Devon Monk continues her tale of a wild wild west that never was. Though I never read the first I was brought quickly up to speed. Werewolf Colin Hunt is taking two women east to Kansas along with his brother who can only be human once a month. The magical strange has made the west very dangerous with deathless people and the ability to create zombies. Colin is one of the few people who can sense an evil weapon broken up into seven pieces. In this book thereís Captain Hink of the flying ship Tin Swift (trade from Roc) and his enemy, a dishonored civil war general, Alabaster Saint. Fast action, both in the skies and on the ground ensue. This is an impossible book to put down and I look forward to continuing the series.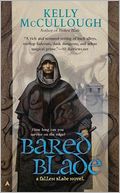 Kelly McCullough has a second adventure of a sort-of private eye in a magical world. Aral Kingslayer lives in a medieval world where magical power comes from being linked to a familiar. Aralís partner/ familiar, Triss, is a shadow creature who lives literally in his shadow and allows him to disappear into shadows, perfect for the assassin he used to be when he worked for a goddess of Justice. But sheís dead and he is wanted for murder and he takes cases that need justice. So a dyad (two women linked together to form a mind meld) walks into his bar soon followed by the Kingís enforcers with their stone dogs and Triss asks him to help them. The macguffen of the tale is a stolen magical ring sought by two groups of magical creatures that can literally swim through stone. But everybody wants the ring and Aral and friends face impossible odds trying to retrieve the ring and stop a war. Luckily there are strange creatures, like river dragons, Aralís friends, and his Bared Blade (paper from Ace) to help. This is a fun, sold action piece that makes we want more.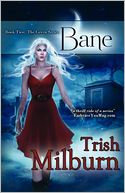 Trish Milburn continues her tale of a teenage White Witch (trade) on the run from her dark witch coven. The trail has led to Salem where the dark witches first found their power. Where Jax finds witches without power hiding from the covens and another group of Bane(trade from Bell Bridge Books) witches who also want to fight the covens. Add in the evil hunter trying to kill all witches and you end up with a fun middle book of a trilogy. This is more serious than the first part.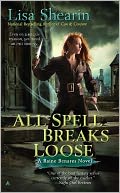 Lisa Shearin concludes her tale of half-elf Raine Benares who has been linked to an evil magical stone called the Saghred. A goblin king stole it and, unless she can use a magical knife on the thing, now located in the Goblin capital, it will be a case of All Spell Breaks Loose (paper from Ace). This is a fun ending to a silly tale with enough action to keep the reader on the edge of their seat.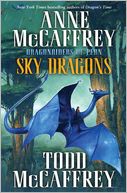 The late Anne McCaffrey and her son Todd McCaffrey conclude their tale of how Pern survived the dragon plague in the third pass. This is mainly the tale of Xhinna, who rides a blue dragon and is one of the few female wind leaders in Pern history. The Sky Dragons (hard from Del Rey) make their home on one of the western islands and have to deal with egg eating snakes and finding enough candidates. There is probably too much Ďtimingí flights that send the dragons to local spots in the past but the survival problems seem real enough. Fun and a must for Pern fans.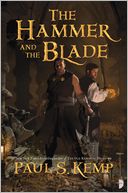 Egil and Nix, bearers of The Hammer and the Blade (paper from Angry Robot) are tomb robbers who have done well enough to retire and buy a run-down bar. But, as Paul S Kemp, tells it, they made a mistake of killing the wrong demon in their last raid, they get kidnaped and put under a spell of compulsion to rob another. This is fun classic fantasy. Very exciting and Iím looking forward to Egil and Nixís next adventures.
You canít miss with the Yearís Best SF 17 (paper from Harper Voyager) in which David G. Hartwell and Kathryn Cramer pick the best tales of 2011.
Fans the HBO series will laterally eat up A Feast of Ice and Iron (hard from Bantam.) Chelsea Monroe-Cassel and Sariann Lehrer have put together a succulent group of recipes. I took it home.
Kelly Armstrong has two tales The Hunter and the Hunted: Two Stories of the Otherworld (electronic from Penguin Publishing ) that lead into her final book of the Overworld series.
Among Others by Jo Walton (tor) won the Nebula Award.
The Science Fiction Society will have its next meeting on July 20th at 8p.m. at International House on the University of Pennsylvania. Campus. This is the Annual Hugo Award Panel which discusses the award nominations.. As usual guests are welcome.
Dr. Henry Lazarus is a local Dentist and the author of A Cycle of Gods (Wolfsinger Publications) and Unnaturally Female (Smashwords)