Henry L Lazarus
4603 Springfield Ave.
Philadelphia, PA 19143

Science Fiction for July 2010
by Henry Leon Lazarus





Science fiction writers predict the future from the patterns of the past. For instance I usually compare the period from the twenties to the forties with the period from beginning of this century till 2020. The roaring twenties compare easily to the exuberance of the last ten years. Growing anti-Semitism and increasing power of Iran suggest Germanyís growth and inclination during that period. Growing unemployment combined with international bank problems suggest a possible depression in our future. Finally poorly written laws (in my opinion) passed recently are reminiscent of the tariff act that some people think made the depression worse suggest a parallel between President Obama and President Hoover. Add in an environmental disaster like the dust bowl, i.e. the recent oil leak in the gulf, and you get too many similarities. I hope Iím wrong because World war III may only be a decade away.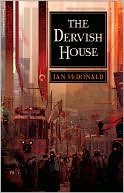 Ian McDonald has been looking at the future in exotic places. In 2027, after Turkey finally joins the European Union, and at a time when gadgets based nano-technology are common, a series of events effect the inhabitants of The Dervish House (hard from Pyr) in Istanbul. Everything starts when a woman on a nearby tram literally blows her head off. One of the witnesses, an ex-drug addict sent from his family after burning his sister, starts seeing djins. A boy with a heart condition and a toy that can morph from monkey to bird and can be directly controlled by his computer, uses his toy and access to the internet to investigate the mini-robots filming the bombing and gets involved with his kidnapping. A dealer of relics is paid to hunt for a mellified man (a mummy created with honey) and a young woman with a business degree is hunting for half a mini-Koran that has a contract etched on it. Itís a calmer future than my potential, but a neat one. I expect this nominated for awards.

Darren Shan tells of a Capek Raimi young man come new to the city to work for his uncleís gang as a potential heir. However the Cardinal, the true leader of the cities gangs, notices him and, after having the uncle killed, takes him in. But Capek has no memory of his past before coming to the city. Other people seem to simply vanish, like Capekís driver and friend, and no one remembers them. There is a list of people who seem to have simply appeared in the city labeled Ayuamarcan (which means Procession of the Dead (hard from Grand Central Publishing)in Aztec) with Capekís drivers name crossed out. Thereís a real, but magical solution to what Capek is and where he comes from. I hope someone nominates this too.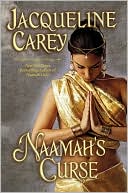 I was blown away by Jacqueline Careyís first novel and she is one of my favorite writers. A few generations after her first tale and in the same world, we continue the tale of Moirin, a druid witch related to the nobility of Terre Díange. This time itís Naamahís Curse (hard from Grand Central Publishing) that drives her from China to outer Mongolia to hunt for her lover, Bao. Finding him married to the Grand Khanís daughter she works to null this political marriage only to be kidnaped by a religious fanatic and brought to Russia. Escaping that she learns that Bao has gone South seeking her, making her travel across the Gobi Desert and the Himalayas to find him netted by a famous assassin cult. More travels are promised in the next tale and I canít wait.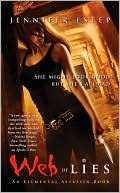 Jennuifer Estep has an exciting new adventure for the ex-assassin, spider. In a world where some people have power over the base elements, Gin Blanco can work with stone and water (usually ice). She is drawn into a Web of Lies (paper Pocket), a fight between two dwarfs. The greedier one has a huge coal mining operation that is running out of coal, and he has discovered diamond running under the land of the other, land owned for centuries. Before long Gin is in the home of Mab,the fire mage who rules the city and may have murdered Ginís parents, hunting the coal miner who will stop at nothing to drive the other dwarf off his land. I couldnít put the book down.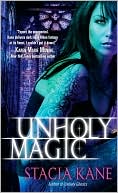 I also really enjoyed Stacia Kaneís second adventure of Chess Putnam which takes place after ghosts rose and killed people. Once church has taken over the world to protect people and Chess, who is also an addict, works for them. Unholy Magic (paper from Del Rey) has chess caught between two rival gangs because someone is murdering hookers from both sides and stealing their souls. At the same time, her real case involves a tv actor with faked hauntings and an agent willing to blackmail Chess over her addiction. Of course the cases come together with a major confrontation of a ghost and its helper. Lots of fun.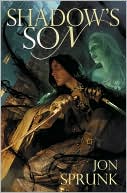 I love a good pulp fantasy and Jon Sprunk delivers. Shadowís Son (trade from Pyr) is about a hard-hearted assassin with the ability to magically hide in shadows and with a ghost that no one else can see looking after him. Sent to kill and old man, he finds the man dead and soldiers ready to kill the manís daughter. So of course he rescues her which puts him at the heart of plots to destroy the kingdom. There are two other assassins involved, one an ex-noble just as dangerous as Caim, our hero, is, and another with strong magical powers, both are soon after Caim and his charge who turns out to be far more than the old manís daughter. Lots of fun, some romance, and a hint of more adventures to come.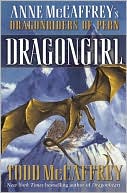 Todd McCaffrey continues the tale of Fiona, one of the major figures in Pern History. The Dragongirl (hard from Del Rey) lived during the third fall of Thread since the settlement of Pern and the world has been hurt by plague of both human and dragon. There arenít enough dragons or riders to successfully fight the thread and timing (time travel) to add extra fighters creates complications. One weyrleader actually is sure he will die when a man with his coat is killed fighting thread. Todd has done a good job with his motherís series and this is a must for fans of Pern.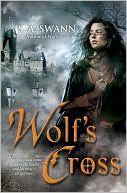 S. A. Swann has a nice series about mediaeval werewolves and the knights sworn to hunt them down and kill them. Darian, who had his whole family murdered by the members of this holy order, is wrecking vengence on them, but he hadnít counted on finding Maria, a werewolf kept human by the silver Wolfís Cross (trade from Bantam Spectre) identifies herself as human and is assigned to tend the wounded Josef, one of the knights hunting her kind. This is a nice play on the traditional love triangle. Iím hoping for more in the series.

The late Kage Baker has another of her fun fantasies which I think were better than her company tales. A teenage girl and her younger bother are left orphaned when her diver mother is lost after finding a corpse of a nobleman in the river. Eliss soon finds a place as lookout on the riverboat, The Bird of the River ( hard from Tor) and gets involved with the young man her age, who is undercover and hunting the murderer of the nobleman. Add in a gang attacking the towns along the river, and an interesting background explored in other books in the series, and you have a fun juvenile. I can only hope that there are other tales in this wonderful series still awaiting publication.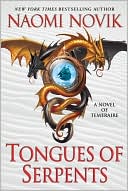 Naomi Novik continues her tale of Captain Lawrence and the dragon Temeraire during the Napoleonic wars. The two have been transported to Australia, after being convicted of treason for giving Napoleonís dragons the cure in a previous book. They have been asked to find how Chinese goods were being smuggled into Sydney and the trail leads them across the continent to a colony supplied by trained Sea Serpents. Tongues of Serpents (hard from Del Rey) integrates historical figures like Captain Bligh and events like the loss of a British fleet in an attack on a French colony that didnít have any dragons or Sea Serpents in our universe. This is a must for fans of the series.

Baen has been reprinting Sharon Lee and Steve Miller tales of the far future that have been around for decades. The Dragon Variations (trade) has three early novels. Local Custom introduces us to clan Korval (the dragon) and the master Trader Thom who has been asked by his first cousin Daav to make an arranged marriage to have an heir for the clan. But his heart was stolen by Anne Davis, a Terran expert in Liaden culture. So he returns to her planet only to discover she had born him a son. Of course true love has to over come custom. Then Scoutís Progress introduces us to Aelliana Caylon, math genius who is abused by the heir of her clan, her brother. Because she has won a starship, she comes into contact with Daav whose hobby is to work on ship repair at an old friends. Love ensues. The tale continues in the latest novel in the series, House and Dragon (hard) which continues Davv and Aelliana dealing with the complications of his impending arranged marriage. Her clan commitments and a nasty pilot kidnaping plot. I didnít like the left turn at the end that made this latest tale a prequel to Fledgling (paper).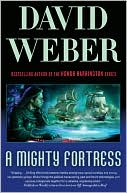 David Weberís fourth tale about a reformation war in a planet, regressed to middle age technology because of aliens who almost wiped out humanity, continues with A Mighty Fortress (hard from TOR) in which the Church is slowly rebuilding its Navy and in between killing all its internal enemies. The action at the end is worth the wait. David Weber latest tales have been epic with tons of characters and, as a result little action. This latest is no exception. This book is for fans of this series only.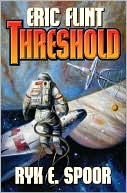 I enjoyed Ryk E. Spoor and Eric Flintís tale of finding an ancient alien base on Mars, Boundry (paper and free ebook). Threshhold (hard from Baen) starts with another base at Ceres investigated by both our American heroes and new European players who play dirty. The heart of the tale is an extremely slow race to circle Jupiter and head for a base on Saturn. The evil members (I mean that literally) have sabotaged the American ship, but the Americans have adapted an ancient alien ship to chase the bad guys with. The science is neat, but, alas the bad guys are cardboard.
Baen paperback reprints include Mark L. Van-Nameís third tale of Jon and his assault craft Lobo, in Overturning Heaven; John Ringoís tale that puts Michael OíNeil in the Eye of the Storm; and three classic Andre Norton tales in The Game of Stars and Comets.
Del Rey has reprinted in paper Alan Dean Fosterís final tale of Flinx Transcendent in paper.
The Science Fiction Society will have its next meeting on July 16th at 8:15p.m. at International House on the University of Pennsylvania. Campus. This is the annual panel evaluating works nominated for the Hugo award and Iím one of the evaluators. Guests are welcome.
Dr. Henry Lazarus is a local Dentist and the author of A Cycle of Gods from Wolfsinger Publications