Henry L Lazarus
4603 Springfield Ave.
Philadelphia, PA 19143 HOME



Science Fiction for June 2014
by Henry Leon Lazarus


The advantage of the Fantasy and Science Fiction genres is that can take mystery, historical, or western tale and modify the basics till it fits.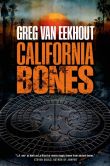 Greg van Eekhout has essentially the ultimate heist tale set in an alternate present where magic comes from California Bones (Hard from Tor) The Hierarch of Southern California rules the country, separate from the U.S. and killed and ate Daniel Blackland's father as part of a purge when Daniel was twelve. Since his father's death Daniel has been a thief on the run because the Hierarch would want his magic too. His father made a sword, locked in the Hierarch's vault out of Daniel's essence. The crime boss, he used to work for, has an insider with the maps necessary to get through the vault's magical defenses. To help him is Moth who recovers from any injury including death; Jo who can mimic anyone; Cassandra a lockpick, and ex-girlfriend, and insider Emma who has something in the vault she desperately wants. There's an inspector on his tail, with a person modified to be a Hound who can trail anyone. Don't forget treachery and double dealing. Very exciting and impossible-to-put-down.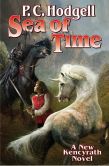 P C Hodgell started her tale of Jame, a young girl Kencyr who wandered out of the desert into the city of Tai-tastigon where she did a God Stalk. Her people were brought together by their Three-Faced God to face the Primal Darkling who has chased them across worlds. A few years of her time later, her first assignment after military school is to the Southern Host based below the city of Kothifir ruled by an immortal king and immortal guild heads. They are on the side of the huge desert, the Sea of Time (paper from Baen) and the city flourishes from the silk trade with a city in that desert that actually existed three thousand years before. Trust Jame to get into trouble. The main problem this time is that the rulers get their immorality from the magic of the Kothifir temple which sometime shrinks and removes the magic. The problem this time is that someone has stolen the temple and Jame has to face her father's strange camp that stretches across time and multiple worlds to get it back. I've read the first tale in this series several times in the thirty plus years since it was published. I am really glad that Baen decided to pick up the series and let Ms. Hodgell continue it.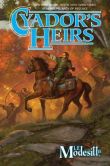 L. E. Modesitt, Jr returns to the world of Recluse after the fall of the empire base on chaos magic. Lerial is on of Cyador's Heirs (hard from Tor) He is the second son of the Duke of Cigoern on Hamor and his Grandfather was the last Emperor of Cyador. When we meet him at age sixteen he is a good kid, eager to learn fighting with sabers and envious that his older brother gets to patrol with the Mirror Lancers. His father sends him to be trained by a retired major and that includes digging ditches and other work done by servants at the palace. When he returns from training his mother helps him learn how to harness his order talents by working in the health clinic. Whern a border country of forest people asks Cigoern for help, he is sent to help train their potential recruits into Mirror Lancers under command of the Major who helped train him. But he didn't expect to be part of an Army defending the forest people against overwhelming odds and a number of Chaos wizards. I really enjoy all of these tales and am really looking forward to the next book which continues Lerial's adventures.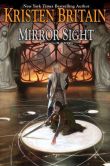 Kristen Britain takes an odd turn in the fifth tale of Karigan G'ladheon, Green Rider. The previous book sent her on an expedition into the evil Blackvale forest She wakes up 130 years later in an empire that rose out of the destruction of her kingdom. The empire, with its immortal emperor relies heavily on the remains of magic, slave labor, and strange machinery. There she is helped by an Archeologist, working with rebels, to fit into this society. But her only hope of returning home is to confront the Emperor with only her few friends and her new Mirror Sight (hard from Baen). That allows her to see into what should have been her present.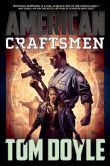 Below the Pentagon, in H Ring, American Craftsmen (hard from Tor), the magic workers who keep our country safe, are based. Captain Dale Morton, of the ancient Morton family, is sent to assassinate an Iranian Magus when his mission goes horribly wrong. Convinced he was set up, and working with the ghosts of his father and grandfather he tries to eliminate the Sphinx who he believed was responsible, but the treason goes far deeper and soon with the help of a mad Ukrainian sorcerer, and an American-Iranian girl with undiscovered potential he first has to face his enemies in a magical place in the Appalachian Mountains where the Civil War dead still fight the ancient war. Tom Doyle takes the climax, of course, to the H ring where magic and ghosts provide exciting and overwhelming danger. Very exciting and a nice beginning to a fun series.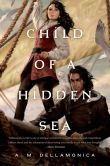 Sophie Hansa's hunt for her birth parents leads her to a different world where magic works. For this Child of a Hidden Sea (hard from Tor) who had been working as a deep sea videoopgrapher, it starts when the woman who might be her aunt is attacked and when she helps, she finds herself suddenly in the ocean towing her injured aunt. When things sort themselves out she is sent home, only to be brought back to settle legal matters. Of course she brings diving and video gear and her adopted tech-nerd genius brother. Then the aunt is really murdered by people modified by magic into being monsters. Somehow it becomes her job to discover who was responsible and sends her across this island dotted earth seeking answers as to what her aunt had gotten herself into and why some of the bigger governments were involved. Attacked by monsters on sailing ships, it can get very dangerous. I really like the way that A.M. Dellamonica has the people distrust technology so that Sophie can use cameras in front of them and they react normally. I enjoyed the new world and hope that Sophie and her brother get another chance to visit.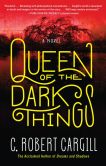 C. Robert Cargill works with dark fantasy heavily incorporating Australian dream walking. This is the tale of how the ten-year-old girl in purple pajamas, who can walk in her dreams, becomes the Queen of the Dark Things (Hard from Harper Voyager. She wants something that only the Wizard Colby can give her, and comes with her monsters to Austin Texas. She is willing to kill all of Colby's friends to get what she wants and what she wants is almost impossible. Intense and nightmare inducing, it's a very interesting, and very different way of looking at the world.S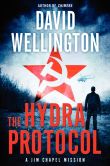 David Wellington writes about a Jim Chapel, a U. S. Spy with an artificial arm. Apparently the Soviets built a fail-safe computer, Perimeter, before the fall of the USSR, using The Hydra Protocol (hard from William Morrow) designed to launch all of Russia's missiles if a nuclear strike was detected. A beautiful Russian agent needs Jim's help to disable the ancient computer hidden deep in Kazakhstan. Chased by Russian FSB agents, they have to survive the desert and reprogram Perimeter so it cannot set off Russian Missiles. With action scenes borrowed from exciting movies and treachery in the worst places, it's impossible to put down. I wish there had been more science fiction in it.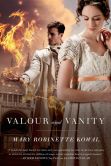 Mary Robinette Kowal sends Glamorists Jane and Vincent to Venice where they intend to work with glass makers to improve their process of putting glamour into glass. Alas an attack by pirates leaves them penniless until they can contact family. Then, using after using loans, they find their work stolen and them accused of being thieves. It's all a scam, or course. Valour and Vanity (hard from Tor) is the fun tale of how they turn the tables on their scammers aided by the poet Lord Byron who also visited Venice in our world at that time. I enjoyed it and will enjoy any of Jane and Vincent's further adventures.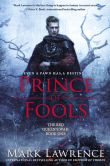 Mark Lawrence has a new series set in his medieval world centuries after a Nuclear Apocalypse where magic has the ability to raise the dead. This trilogy is the tale of Jalan, Prince of Fools (hard from Ace. His grandmother, the Red Queen rules Red March (Norther Italy) and Jal is tenth in line. So he chases women, gambles, and lives off his reputation as a hero gotten from running from battle and ending up in the wrong place. Then he is magically attached to Snorri, a Norse warrior whose family had been murdered. Snorri, escaped from the fighting pits that Jal had somehow gotten him into, is heading North for vengeance and Jal is merely escaping a nasty creditor so he goes along. It doesn't help that the magic gives him visions of a disapproving Angel. The only way to break the magic that binds them together is to find the "unborn' being who is located at a fort edge of the Arctic where Snorri's enemy resides. Lots of fun, though only the first of a trilogy.

Ace is Wild (ebook from Amazon Digital Services, Inc.) Is a mix of Harry Potter, the old west (during the Civil War period), and a dash of The Wizard of Oz. C.B. McKee tells of Ace, an orphan who spent formative years with the Indians who is sent to a camp for a few orphans with magical powers. But Ace has so much power because of a magical entity that has adopted her that bands of card suit- named rebels against the magical authority want her to help their cause. She ane her friends are soon on the move to find wizards that can help remove the entity like a swamp voodoo witch, a wizard in a small town, and eventually the center of magic that is slightly out of this world. Lots of fun.

Bremy St James was a daughter of the super rich until a fight with her father. Now, according to Auralee Wallace, she has to worry about paying the rent from a landlord who wants to break her fingers if she doesn't pay. But a bank withdrawal is foiled by a robbery by a group of clowns, and the city's only superheroine, Dark Ryder, doesn't arrive in time. Then she borrows her rent from her new boss, who also makes threats, and loses it in a robbery, bombing that Dark Ryder saves the day and she helps. It seems like a good idea to become Dark Ryder's Sidekick (ebook from Escape Publishing) only to discover that her father is behind an evil plan involving brain chips. Since Dark Ryder was injured it falls on her to do the impossible helped by a hacking genius, Dark Ryder's mentor, and her next door neighbor who knows how to fix Bremy's hair. Lot's of silly fun.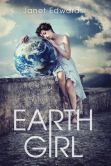 Eight centuries from now humanity has spread across the galaxy using teleportation portals. But some like Jarra, are handicapped to like on Earth because their immune system would kill them on any other planet. But this Earth Girl (paper) has settled in working for a history degree with normals who are doing Archeology on Earth's ancient cities. Then, suddenly, and alien craft appears at Earth Star (hard from Pyr) and Jarra and her boy friend are soon drafted into the Military. Janet Edwards has nothing really original to say about this first contact and, unlike the first tale, really has to stretch coincidence to get Jarra in the middle of the action. Still it's an enjoyable series with a likable heroine overcoming odds to get what she wants.
Pyr has the Nebula Awards Showcase 2014 (trade and edited by Kij Johnson) with the winner and finalists of the shorter selections plus more. Nebula's are awarded by the Science Fiction Writers Association and represent excellent writing.
Baen paper reprints this month include the Honorverse Companion House of Steel by David Webber; Ryk E. Spoor and Eric Flint's tale of ancient aliens whose remains are found in the future, Portal.. They've also put out a special signed edition of Michael Z. Williamson's Freehold. In trade we have two andre Norton tales Secret of the Stars.
Star War's fans in anticipation of the new movies coming in a few years will be excited about Star Wars Storyboards (hard and edited by J. W. Rinzler). These is amazing art, frequently better than the movie version.
The Science Fiction Society will have its next meeting on, June 20th 2014 at 8 p.m. at International house on the University of Pennsylvania. Campus This is the Annual Hugo Review Panel. As usual Guests are Welcome.
Hugo Award nominations this year for novels are: Ancillary Justice, Ann Leckie (Orbit US/Orbit UK); Neptune's Brood, Charles Stross (Ace / Orbit UK); Parasite, Mira Grant (Orbit US/Orbit UK); Warbound, Book III of the Grimnoir Chronicles, Larry Correia (Baen Books), and The Wheel of Time, Robert Jordan and Brandon Sanderson (Tor Books / Orbit UK).
Dr. Henry Lazarus is a local Dentist and the author of A Cycle of Gods (Wolfsinger Publications) and Unnaturally Female (Smashwords).