Henry L Lazarus HOME
4603 Springfield Ave.
Philadelphia, PA 19143

Science Fiction for May 2013
by Henry Leon Lazarus






When you cross international borders publishing rights change so that a book published in England or Australia won't make it here without an American publisher. While this limits some of the good stuff from making it here, Publishers are always looking for Fantasy and Science Fiction for the American market.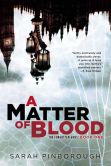 Sara h Pinborough's noir, police procedural, A Matter of Blood (Trade from Ace) was published in 2009 and has some internal dates that should have been changed for the American edition. That's only a minor annoyance in her impossible-to-put-down thriller about a London Detective Cassius Jones was working the case of murdered teenagers who were in the wrong place when gun men tried to kill a gangster. Then he pulled into a serial killer case who not only leaves fly eggs in his victims eyes but writes, "Nothing is Sacred" in blood on their chests.. The third case is personal. His brother is found as a murder/suicide victim and there are clues linking the murder to Cass. To add to the complications are Bright and Solomon who apparently are much older than they seem and are involved somehow in all three cases. They are very interested in him because of his ability to see the "glow". In this England recession has hit hard and all cops, including Cass, are on the take. In fact, Cass is friends with his mob contact. Mystery fans will really enjoy this first book in the trilogy, because the fantasy elements are kept to a minimum. The other two books have already had English publication and should arrive her soon.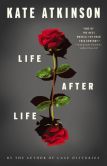 Kate Atkinson answers the question of what a person's life might be different if they made different decisions. Ursula Todd, born in 1910 is reborn in 1910 every time she dies. In this Life after Life (trade from Reagan Arthur Books which I bought electronically) Ursula dies from a cord choking her at birth, drowning at four, the influenza in 1918, and often from bombs during the blitz. Usually during World War II she works as a secretary and dies either with her lover or in a bomb shelter. One life she marries a high place lawyer in German and dies from US bombs. There's a fascination her, both to see how she can find a way to survive in the next version of her life and a good look at the British middle class of the era. I guess the ending from the beginning, but still remained fascinated.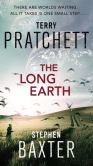 Major sf authors, Terry Pratchett and Stephen Baxter take a different look at parallel Earths. A physicist posts plans on the Internet for a box that allows one to 'step' onto parallel Earths. Soon kids are making the box and social chaos Some people are natural steppers, but most find the step nauseating. Soon human colonies are established across The Long Earth (paper from Harper Collens which I got from the Library) Most of the tale is about Joshua Valienté, a person who naturally steps from earth to earth. The artificial intelligence Lobsang wants him along on an exploration trip on a specially designed derigible. Humans are only found on one world, but other stepping hominids are around and they are fleeing something millions of Earths away. What they find on the trip provide a tour of an amazing wonder. There is a sequel coming out this June.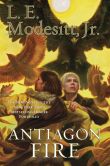 L. E. Modesitt, Jr. is one of my favorite authors because of the detail of his magical worlds. After a trilogy set in a world where magicians image things, he has begun a five part tale of the imager responsible for uniting all of Lydar. Quaeryt has risen to the rank of Commander in this fourth tale and is sent with his wife, the King's sister, is sent on a diplomatic journey to a northern kingdom to convince them to join the growing kingdom. Coming back he realized that he needs to go south and face the horrible Antiagon Fire (hard from Tor). I've really enjoyed this series, but I wouldn't want to start with this tale.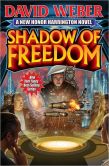 David Webber's long series set in the far future continues with Shadow of Freedom (hard from Baen) in which the Manticore empire has to face the huge, corrupt Sollies. The Solarian empire has contempt for neo-barbaric worlds like Manticore, but they haven't improved their technology in centuries. The decades long war between Manticore and Haven has given Manticore such an edge that they are practically invincible. This time there in involvement with one Solarian governor who has seized Manticor commercial ships, and a revolution that need Manticore help. Minor, but still fun. I'm still enjoying this eighteen-book series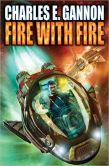 Charles E. Gannon is really good with exciting action scenes, but the links in Fire With Fire (trade from Baen) depends on logil links from very smart people, that I didn't always follow. Reporter Caine Riordan was found near the Admiral's quarters on a Lunar base with top secrets to hide. So they put him in hibernation till they need him, thirteen years later. At that point Earth has a ftl drive and several colonies. On one of them ancient relics of a star-faring civilization have been found and Caine is sent to investigate. After a number of assassination attempts he gives his report to a secret meeting of Earth Government and then is sent as an envoy to a stellar government considering Earth's membership. Nothing is what it seems. There's enough information left unknown that there probably will be a sequel. I just wish this one made more sense.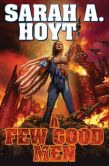 Sarah A. Hoyt tells of the rebellion against A Few Good Men (trade from Baen) which is set in the same world as her Darkship Thieves (paper) tales. Lucius Keeva was the son of a Good man who found himself in the wrong place and time and ended up in solitary confinement for fourteen years. Coming out he discovers that his brother and father are both dead. So he goes to the island his father ruled and takes control to protect it from other 'Good Men'. But he doesn't know that the other 'good men' are genetically modified mules who have been using brain transplant on their cloned sons to survive three centuries. Lucas is modest and tries to downplay his role in the revolution that follows, but the tale is still lots of fun.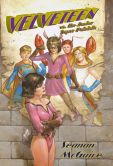 Super heroes and comedy rarely mix well, but when they do it is really great. Seanan McGuire sets the tale of Velma Martinez in a world where super heroes are dominated by a few large companies. When her talent to bring toys to life manifested at a trip to the museum and her parents effectively sold her to the Junior Super Patriots, West Coast Division. At eighteen she quit and worked a series of part time jobs avoiding use of her super powers. Then, at twenty-five, she starts driving to Oregon for a interview for a full time job. First there was the crawfish festival which a super-villain Claw was sending crawfish to attack. Then when her car broke down and she took a part time job waitressing, there was a coffee club determined to warp reality. That brought her to the notice of the current junior super heroes and it's a fight: Velveteen vs. The Junior Super-Patriots (trade from ISFiC Press which I bought electronically) In back story we learn how she save Halloween, and of her lost love in the Super Patriots. I can't wait for the sequel.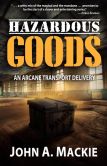 John Mackie tells a tale about Donnie Elder who lost a executive position and put his extra money into buying a partnership in Arcane Transport, a successful business transporting magical items whose owner, a friend of the family, is near retirement. Donnie doesn't really believe in magic, even after he is robbed at gun point on his first day. Then there's the magical ring that one of his drivers was tricked into putting on and ended up cursed, the eighty-year-old witch that magically threw a refrigerator at him, the stone that causes people to see their worst fears, and the love potion that drove his cute secretary nuts. Getting involved in transporting very Hazardous Goods (paper from Storm Cloud Press, Inc. which I bought electronically) might have some advantages but it takes a tough guy to master them. It helps that Donnie is immune to magic. I really like the details of running a business in Toronto. Mr. Mackie makes Arcane Transport seem quite real and I'm looking forward to the sequel.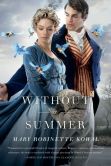 Mary Robinette Kowell wonders what the politics of the 1816 year Without A Summer (hard from Tor) if some young men had the magical ability to create cool spaces. Jane and David Vincent go to London for a commission to add permanent glamour to a ball room. In the previous adventures, which I haven't read, they had been worked with the Prince Regent and that gives them a leg up in society. They bring Jane's sister Melody with them to introduce her to society and maybe find her a husband. Alas, a plot to use coldmongers, who are mostly out of work because of the continual colder weather, gets them involved and arrested for treason. This is an enjoyable look at a magical version of Jane Austin world and is well suited for both adult and teen readers.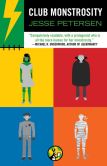 Jesse Petersen has a self-help group of monsters in New York. Club Monstrosity (electronic from Pocket Star) was set up by the Blob and its members are working a being human. Natalie, the last of Dr. Frankenstein's monsters works night shifts at a morgue and has been hiding in plain sight for years. Then someone murders the Blob and the Invisible Man. Thsi group, mainly Drake (Drakula), Kai the mummy woman, Dr. Jekyll and Mr. Hyde, and Alec the wolfman are soon looking up Van Helsing and his descendants, and hacking the internet. The perpetrator is quite mad and willing to go great lengths for vengence. Lots of fun, but a dash too silly. I liked it well enough to wait for the sequel.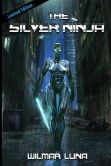 Wilmar Luna has a satisfying tale of a super heroine. Cindy Ames was once a cop, and now runs a gymnastic school with her sister. Her husband Jonas has a top secret lab losing funding, but they have a prototype of a nano-tech super suit, which somehow manages to attach itself to Cindy. Think of an Iron man suit that can melt off her body, creating clothes as it does. She may nto be able to fly but she can swing like spiderman. The villain convinces The Silver Ninja (trade from Createspace Independent Publishing Platform) to assassinate his enemies, but when she finally refuses one victim, attacks her with an improved version of her suit. Her husband has disappeared, working for a top secret firm. The tale has logic holes and a cardboard villain, but it is still fun and very satisfying to anyone raised on comic books.S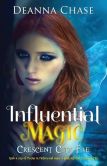 Deanna Chase has a fun tale set in an alternate New Orleans where vampires are very powerful and kept in check by the Arcane agency. Willow Rhoswen is a fairy with very Influential Magic (paper from Bayou Moon Publishing). The Arcane wants her because she has a very rare talent of sensing vampires though the side effect can make her very sick. She also owns a bakery, the Fated Cupcake where her magical abilities to enhance plants has created a delicious varieties of cookies with strong effects. One, Influence, is restricted because it can make people do what they are ordered to do. Returning to New Orleans from California, she finds her ex, who had dropped her suddenly, has become a vampire. People are illegally selling influence as a drug, and two many people want her dead, including her Aunt, the director of the Arcane Zone division. There's also the question of her twin brother's death four years ago. In fact there are more puzzles than Willow can shake a wing at. She has the help of her roommate, a witch, and Link her shih Tzu dog who can transform into a deadly wolf. Lots of fun and I'm eager for more adventures.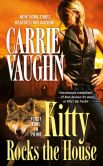 I've said for a long time that Carrie Vaughn's tales of Kitty, a werewolf who has a radio show, would make a great televison series. Kitty Rocks the House (paper from Tor) is a minor addition. A vampire catholic priest comes to town, a member of an ancient order that can only attend non-sanctified churches. He is being chase by an evil demon. At the same time a new werewolf comes to Denver and wants to take over Kitty's pack. I always look forward to these.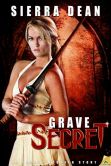 I've been enjoying Sierra Dean's five tales of Secret McQueen, an extremely rare half-vampire/half-werewolf. Originally she earned a living killing vampires for the Vampire tribunal, and ignored her werewolf heritage. A few books back she killed one of the three members of the tribunal and became one of them. In the last tale Lucan a billionaire in the human world and head of New York's werewolves jilted her at her huge society bash wedding. Now his very human sister has gone missing and the trail leads into a literal fairy land where she has to make promises to get the girl back. That leaves her with a love-lorn girl wanting to go back to her fae lover, and a Grave Secret (ebook from Samhain Publishing, Ltd which I bought) which could get her killed. I'm buying the next one as soon as it comes out.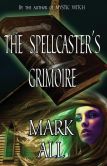 Mark All has a tale of a witch, Trish Sinclair, who's written two volumes of The Spellcaster's Grimoire (trade from ImaJinn Books Inc) She got the spells from the warlock living next door and from her late mother's books. Alas, she's given away the fact that there is a power enhancing crystal in the heart of Maynard, Georgia. Kate comes to town looking for an ancient grimoire with a spell to tap the crystal energy. She murders the warlock next door in Trish's kitchen and starts chasing Trish around. Trish's only hope is a teenager with photographic memory and a warlock her age who had given up magic because he thought it was evil. Soon flying energy balls are fighting freezing spells and burning buildings down. Trish may have gotten herself into a lot of trouble, but I kept giggling the whole tale. Fun but a bit light.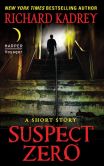 Richard Kadrey has a short tale about a murdering truck driver, Suspect Zero (electronic from Harper Voyager) and a young man who wants to be his protegé. Needless to say the driver is far more than he seems and the young man helplessly outclassed.
Baen has reprinted in paper Tony Daniels fun Guardian of Night; David Drakes's last Leary and Mundy tale The Road of Danger; and two collecte Andre Norton tales, Forerunner Factor. Harper voyager has paperback reprints of the earlier dragon tales from Robin Hobb, Dragon Keeper; Dragon Haven; and City of Dragons.
Look for the Nebula Awards Showcase 2013 (trade from Pyr and edited by Catherine Asaro) for of some of the award nominations and winners from last year.
The Science Fiction Society will have its next meeting on May 10th at 8 p.m.at The Rotunda on the University of Pennsylvania. Campus. Small press editor Mike Allen will speak. . As usual guests are welcome.
Hugo nominations this year include: 2312 by Kim Stanley Robinson (Orbit); Blackout by Mira Grant (Orbit); Captain Vorpatril's Alliance by Lois McMaster Bujold (Baen); Redshirts: A Novel with Three Codas by John Scalzi (Tor); and Throne of the Crescent Moon by Saladin Ahmed (DAW). I've only read one.
Dr. Henry Lazarus is a local Dentist and the author of A Cycle of Gods (Wolfsinger Publications) and Unnaturally Female (Smashwords)