Henry L Lazarus

4603 Springfield Ave.
Philadelphia, PA 19143

Science Fiction for May 2012
by Henry Leon Lazarus

China Miéville has been sweeping fantasy and science fiction awards with his odd mixture of strange worlds with their own weird sciences. His latest should have plenty of nominations.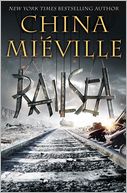 China Miéville imagines a world of flat lands where the oceans should be. Its covered massively with railroad lines and underneath those lines are strange creatures like huge moles. Shamus Soorap is a physician's apprentice on the Mole Train Medes which kills the giant creatures for their meat and skin. He finds a photo card with pictures on a wrecked train, one of which purports to show the end of the Railsea (hard from Del Rey) and somehow convinces the Captain to take the Medes to the land where the wrecked train had originated, to tell the orphans of the people who owned the train that their parents are dead. That gets him captured by pirates. Mr. Miéville has great fun mixing tropes from Treasure Island, Robinson Crusoe, and many more sea tales. There are also trains running on all types of power like wind, electricity, slaves, and even diesel. This deserves any award it is nominated for.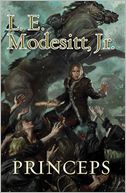 L. E. Modesitt, Jr. is one of my favorite writers. A friend recently was introduced to him and was overwhelmed by his sixty plus books. Princeps (hard from Tor) is the middle book in the prequel trilogy to his Imager series (whew!). The hidden Imager, Quaaeryt is appointed governor to a city and Provence ravaged by a volcano. Doing all the right things, of course, angers the locals. So he is sent to the war front to help prevent an invasion. He is put in charge of a group of imagers who have to be trained to use their talents in war, and does most of the imaging work while letting his crew get the credit. As usual lots of fun.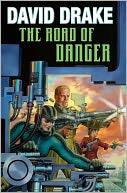 David Drake's tales of Captain Daniel Leary and ex-librarian Adele Mundy keep getting better and better especially since the pair haven't been promoted out of the action. Mr. Drake has a dirty future with automobiles, flying cars, and, of course, starships with masts and sprits. The latest adventure, borrowed from an historical event in the punic wars, sends them to an Aliance planet where revolution has ruined the profitable rice trade. The problem is that the man at the heart of the revolution may be a Cinnabar native, so the Princess Cecile is sent On the Road of Danger (hard from Baen) to get him out of there. Daniel has to go undercover to reach his quarry, while the Princess Cecile pretends to be a private yacht owned by Adele. Luckily they somehow manage to get together only to come under the guns of a privateer. This is the eighth book of a series that is only lightly arced so that each may be read independently. Fun Fun Fun.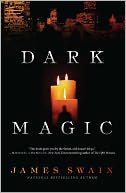 James Swain has fun mixing stage magic with the real thing. Peter Warlock is a noted stage magician with a real telepathic talent. In fact, he and seven other friends hold seances to accurately foretell horrible events with enough specificity to pass secret hints along to responsible authorities Like a nerve gas attack. Then evil warlocks using Dark Magic (hard from Tor) send an assassin to attack their group. Peter doesn't realize that his parents, murdered when he was a child, had been members of that group, and that he has inherited their power which comes out in the stress of trying to protect his friends. I really enjoyed the mixture of real stage magic with its fancy tricks, with the unreal spiritualism of ghosts and demons. Fun.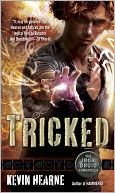 Kevin Hearne has a new tale of Atticus, a two thousand year-old druid who talks to his dog. In a world with all spirits and gods, He owed a favor for Coyote and is Tricked (paper from Del Rey) into also having to deal with skin-walkers, evil people whose souls are linked to a navaho demon and aren't killable. There's also the Norse goddess Hel. As usual he survives to wait the next fun tale. Lots of fun.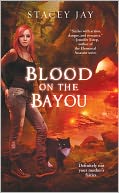 Stacey Jay returns to an alternate present where deadly faries have replaced mosquitos in the south. To most people their bite is deadly, but Annabelle Lee is one of those immune. There's Blood on the Bayou(paper from Pocket) Hitch, FBI agent and ex-lover, is being blackmailed. His fiancee has been poisoned to loose their baby, and will only get the antidote if he finds and destroys a government lab hidden deep in Fairy territory. Annabelle is caught between her new lover and her old, the big man who gives her medicine to keep from going insane from the fairy bites she got in the last tale and her ex-boss in Fairy Containment. Fun, but a bit confusing.
I got two books that gave me nightmares.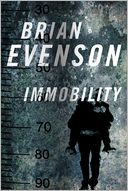 Brian Evenson tells that after an apocalypse which left the world uninhabitable, Joseph Horkai is woken from storage to be given a mission. He remembers very little of the Kolapse, or even why he was put into storage, but he is one of a few people who had a radical adaption that allows them to survive outside. Two men wearing biohazard suits are his mules, because of his Immobility (hard from Tor) and they expect to die on the journey. Monks, adapted as he has, have stolen a canister of precious seeds and he has to cross fifty miles of wasteland to retrieve the canister. Needless to say he has been lied to. This is impossible to put down, but very depressing.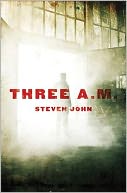 Steven John takes noir mystery to a new level by showing us San Francisco covered in fog for sixteen continuous years. Thomas Vale is a detective in a world where fog lamps are needed just to walk a block. Every night he wakes up at Three A. M. (Hard from Tor) until a blond in a red dress hires him to prove her boy friend is innocent of murder. When the authorities have no knowledge of her boy friend, he realizes that something is wrong. But the conspiracy goes to the heart of the fog. There are several times when the bad guys should have killed our dark hero, but he always gets away. It's fun, even though I find it hard to believe that such a conspiracy would have lasted as long as it did.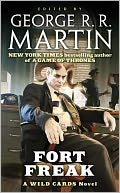 I missed the latest wild card novel, a series I've loved since 1987 and found it in the Library. Fort Freak (hard from Tor and edited by George R. R. Martin) is the police station in Joker town in New York City. Ramshead, Leo Storgman is near retirement when he is pushed into looking into a cold case, the murder of five people in diner in 1978. The most likely suspect was murdered, but dirty cops have started to murder snitches with information. There are also three cute stand-alone tales about a nat rookie who helps high school joker convicted of car theft when she ran from a rape; a cop transfer who helps locate a teleporting thief, and a very fun tale of a wannabe actress with the ability to absorb other Ace talents but unable to control them.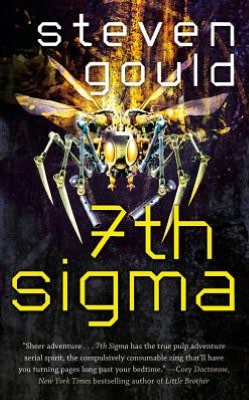 One of my favorite authors, Steven Gould, has such a horrible title, 7th Sigma (hard from tor) that I waited till I got it from the library. Then I couldn't put it down. Kimble is on his own when his mother dies and his abusive father has to leave the territory for surgery. It seems metal eating bugs have invaded the American Southwest, destroying technology and forcing people to either leave or put up with dangerous, low-tech living, because the bugs attack humans if they swarm. Then he meets Ruth who is building a Dojo in the territory and accepts Kimble as an inside student. As Kimble grows he gets involved with Major Benthan of the territorial rangers and soon becomes an agent for him. If this were a series, I would expect some clues as to where the bugs came from, but I doubt any sequel is coming. Fascinating.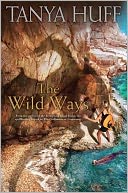 Tanya Huff continues her fun tale of Charlie, one of the magically powerful Gales who could rule the world, except it wouldn't be proper. Right now the Gales have their hands full with Jack, a fourteen-year-old half-Gale and half-dragon prince who can turn into a golden dragon at will, and usually at the wrong time. Aunt Charlotte has decided to steal Selkie skins as blackmail to keep the local Selkies from protesting an oil company from drilling near a seal rookery. Charlie gets involved because the leader of her latest band is going with a Selkie girl who has had her skin stolen. Add in a Boggart attack on a concert they were playing and Goblins and a troll guarding the skins which makes Charlie walk The Wild Ways (hard from DAW which I also got from the Library) and you have the recipe for a fun, light lark.
Pyr is publishing the Nebula Awards Showcase 2012 in trade. Great stories from the 2011 ballot. Open Road Media has brought out Barbara Hambly's tale of an evil bracelet in 1920's Hollywood Bride of the Rat God as an ebook. I vaguely remember that it as a fun attempt to merge the outrageous plotting of silent movies with the famous actors of the time.
Baen has a fourth volume of A. Bertram Chandler's works Ride the Star Winds (paper) and a collection about Armored warriors (paper and edited by John Joseph Adams).
George R. R. Martin's classic Fevre Dream (Bantam Books) about vampires on the Mississippi just prior to the Civil War is out in paper.
People interested in the movie Battleship should pick up Peter David's novelization in paper from Del Rey.
Hugo nominations for this year include: Among Others by Jo Walton (Tor); A Dance With Dragons by George R. R. Martin (Bantam Spectra); Deadline by Mira Grant (Orbit); Embassytown by China Miéville (Macmillan / Del Rey); and Leviathan Wakes by James S. A. Corey (Orbit)
The Science Fiction Society will have its next meeting on May 11th at 8p.m. at International House on the University of Pennsylvania. Campus. Author Brenda W. Clough will speak. As usual guests are welcome.
Dr. Henry Lazarus is a local Dentist and the author of A Cycle of Gods (Wolfsinger Publications) and Unnaturally Female (Smashwords)