Henry L Lazarus
4603 Springfield Ave.
Philadelphia, PA 19143


Science Fiction for May 2011
By Henry Leon Lazarus

Science Fiction and fantasy can look at language in ways that no other form of fiction can consider. Not only is it possible to coin odd words, but words, or any type of communication, can have unintended consequences.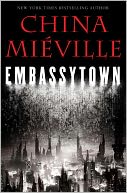 Hugo Award winner China Miéville latest takes place on a strange world in the far future on a world where the native Ariekei speak in two voices at once and their native language connects so deeply to their identity that they literally can't lie. Their biologic constructs are useful so identical twins are connected to become ambassadors. Avice Benner Cho grew up in Embassytown (hard from Del Rey), left to crew the starships and returned with a linguist husband, fascinated by the aliens. Then the star empire Bremen sends a new type of ambassador, two adults who found a way to link. Ez and Ra can speak the alien language, but when they try, their words are literally addicting. With the world around them going nuts as the Ariekei stop working and the human city threatens to collapse, Avice and her friends have to find a way to show the Ariekei a new way to communicate. I suspect this will be nominated for awards.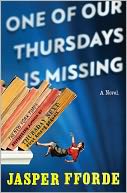 Jasper Fforde's series about Thursday Next, a woman who can travel into bookworld is fun, beguiling, and has a new sequel. Since Bookworld has every book written, it of course has the Thursday Next series with characters ready to play out the action everytime a reader finds the books. But it's been remaindered and only has a few readers. The written version of Thursday Next works for the Jurisfiction Accident Investigation Department and while investigation a book crash and explosion has some one tell her "One of Our Thursdays Is Missing" (hard from Viking which I bought for my kindle app). Obviously it is the 'real' Thursday who is missing. The murder attempt has something to do with a potential war between Racy Novel and Women's fiction that Thursday was supposed to mediate. It also has something to do with a valuable metaphor mine. Soon our Thursday is racing around trying to find the real Thursday, even venturing into Thursday's 'real' world to talk to her husband. As usual the giggles are unstoppable. If you like playing with the written word, you have to pick up the previous books in this collectable series.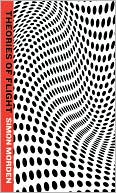 In Equations of Life (paper) we met Samuil Petrovitch, genius grad student in Physics with a dark history who fight an artificial intelligence in the London Metrozone. In Theories of Flight (paper from Orbit) Samuil has gotten his PhD, gotten married to a cop, and invented an anti-gravity device. But, alas, the Metrozone was weakened in the first tale and people from the outzone are breaking in. With his wife caught behind enemy lines, Samuil has to use all of his smarts, his contacts in the underground, and an A. I. he's been keeping secret to win the war and save his wife. Impossible to put down like the first tale.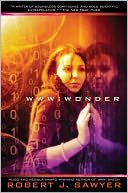 Robert J. Sawyer was nominated for a Hugo for WWW: Wake (paper), the first part of his tale of a sixteen-year-old blind girl who is given sight via a computer link and in doing so finds an emerging computer intelligence in the web. But a U. S. agency WWW:Watch (paper which I bought for my kindle app) decides that any electronic intelligence is dangerous and tries to kill Webmind. So Webmind reveals himself to the world, bringing WWW:Wonder (hard from Ace) to the world. Caitlin Dector helps webmind find morality while discovering the world of sight. There's a sign-language, using ape, who paints pictures, and who helps introduces Webmind to the UN. And most of all there is a change in human behavior because of Webmind. While the tale has a wish-fulfillment element that sometimes is cloying, and a liberal bias, Mr. Sawyer tries to keep things logical. Warning for parents, Caitlin Dector does lose her virginity off-screen and at one point sends pictures of her breasts to her boyfriend.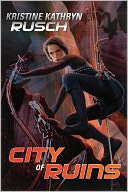 Kristine Kathryn Rusch's latest addition to her digger universe sends Boss to an ancient city where a recent quake has uncovered ancient ruins that may have some of the 'stealth tech' from an ancient, star-ship fleet of Dignity vessels. She had been diving into their wrecks, so she treats this exploration of a City of Ruins (trade from Pyr). Her diggings somehow unlock one of the ships locked in stasis for millennia. What results is a first contact with a crew lost in time that has to be kept secret because the government of the city above is sure to seize the ship if they discover its existence. Lots of fun.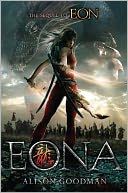 A few years ago Alison Goodman introduced us to a crippled girl, pretending to be the boy Eon (paper) who was chosen as a dragoneye apprentice. In the second half of the tale, Eona:The Last Dragoneye (trade from Viking) now linked to the only female celestial dragon, but with no training, is on the run from the evil new emperor who murdered the old emperor and most of his family. She joins forces with Kygo, the true heir, who has a magical pearl sewn into his throat as proof of his right to rule. The only other surviving dragoneye, Ido, the one who murdered the other dragoneyes, is being tortured by the evil emperor. There is a prophesy that suggests that unless the celestial dragon are resurrected, they will die. Everything depends on timing, and Eona's willingness to face true morality in this exciting juvenile adventure whose first half won several awards.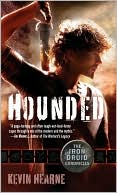 Kevin Hearne takes an ancient druid Atticus O'Sullivan who owns an Occult shop in Tempe Arizona (where my father went to College). Atticus gives his age as twenty-one but he means centuries. He has a dog he mind-talks to and has his eyes on a local bar maid. But there is this magical sword he's owned for eighteen centuries that has been claimed by one of the Celtic gods. Now, because of politics, he is Hounded ( paper from Del Rey) by allies of that god. Helping him are his lawyers (one werewolf and the other vampire), his dog, and an ancient witch who has possessed the bar maid. Lots of fun and a sequel next month.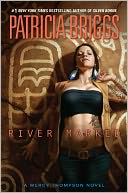 Mercedes Thompson, auto-mechanic in the Tri-cities area of Washington State with the ability to turn into a coyote, has her sixth adventure. She gets married to the alpha of the local werewolves, Adam and the two go away for a honeymoon in a cabin on the Columbia River, But something is eating people and Mercy gets River Marked (trade from Ace which I bought for my Kindle app). With the help of a group of gods of the American Indians including the trickster Coyote, Mercy has to kill a monster that can grow to eat the world. Fun as usual, which is why I keep buying the series.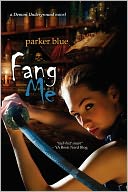 Valentine Shapiro is half- lust-demon and that gives her enough special abilities at killing vampires that her half-sister calls her the slayer. After being thrown out of her home because her sister follows her to vampire kills, she joins a special police force working of keeping the streets safe from vampires and stuff. As Parker Blue tells it, San Antonio has had a massive increase in vampire population. Some of them just want to drink volunteer blood and other are attacking strangers and need to be slain. Bite Me (paper) also has a talking dog, fang who is half demon. When her sister gets too involved with volunteering for the 'good' vampires, Val and her human partner have to investigate. In Try Me (trade ) she gives the rare copy of the Encyclopedia Magicka to the Demon Underground only to have it stolen by someone who wants to use its knowledge to hurt the good vampires. Val has teamed up with another demon, Shade and rapidly falling for him. That when she learns that losing her virginity will cost her the extra strength and healing abilities that have made her known as the slayer. In Fang Me (Trade from Bell Bridge Books) the Encyclopedia Magicka has hidden itself and there's a demon from LA who insists he is its keeper. Val does lose her virginity but her secubus abilities have become powerful enough on their own. All in all light fun and a delightful read both for its teenage audience and adults who remember being a teenager.

Carolyn Jewel tells of a stalking really gone bad in My Dangerous Pleasure (paper from Forever) Paisley Nichols owns a bakery in San Francisco with a good reputation. When she goes out for coffee with a regular and ends , she doesn't know he's a three hundred-year-old mage who won't take no for an answer. If fact she doesn't know anything about the magical subculture of mages and demons. Luckily her landlord is a demon who, with his friends has enough power to protect her. Plus, it seems she has some hidden abilities on her own. This is a nice love story (with some hot sex scenes) that I found quite readable and exciting enough to make it hard-to-put-down.

Matthew Hughes uses the devil for his fantasy The Damned Busters (paper from Angry Robot) which starts when insurance adjuster Chesney Anstruther accidently summons a demon and then refuses to sell his soul. Now, with a giggle, that leads to hell going on strike and the only way to solve it is for Chesney to apologize for that he gets a wish to become a superhero for two hours a day. When, as a superhero, he saves his bosses daughter from a kidnaping, he some how upsets a plot to bring an evil man to power in his city. Lots of light fun as nerdish Chesney somehow has to find a way to save the day.
Roc has reprinted Guy Gavriel Kay's fun tale of magic in ancient China, Under Heaven (trade) and Baen has more of Poul Anderson's tales of Flandry's Legacy (trade) in the final collection of Technic Civilization stories.
The Science Fiction Society will have its next meeting on May 13th, 2011 at 8 pm at The Rotunda on the University of Pennsylvania. Campus. Elizabeth Hand , a World Fantasy Award winner will speak. Guests are welcome.
Dr. Henry Lazarus is a local Dentist and the author of A Cycle of Gods from Wolfsinger Publications which can be bought on Amazon.com.,