Henry L Lazarus HOME
4603 Springfield Ave.
Philadelphia, PA 19143



Science Fiction for April 2015
by Henry Leon Lazarus



Fantasy and Science Fiction specialize in strange worlds. Often they are very similar to our own. Other writers explore worlds that could never exist.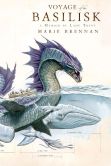 Marie Brennan sets her memoirs from Lady Trent in a Victorian Age in which dragons are part of the natural order. Lady Trent is a famous naturalist who has investigated dragons all over the world. Her latest, and the voyage that made her famous in her world, is Voyage of the Basilisk (hard from Tor) a ship, she and some other researchers have hired to hunt dragons all over her world. The ship also trades in order to help pay its expenses. She brings her son Jake, now age seven, along and he has the time of his life. They face pirates, swim with dragon turtles, and, after the ship is thrown on a reef by a horrible storm in the broken sea, ride a sea serpent and rescue a princess. There's no magic. The world comes to life and feels very real. I love this series.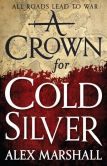 Alex Marshall sets his tale, A Crown for Cold Silver (hard from Orbit), of revenge and magic on a dark world still recovering from the collapse of an earlier civilization. Zosia was a bandit queen out of legend. She and her five villains conquered an empire. Then, a year later she was killed. Peace has returned to the Empire in the next twenty years with the empress sharing power with the Pope of the Burnished Chain. Then a new Cobalt army appears and the first Zosia hears of it is when her village is attacked. Things are far more complicated. The rumors of her return have brought most of her villains out of hiding, including the sorcerer. And a battle looms between the Imperial Army and the heavily outnumbered Cobalt army. I really liked this world, but the ending left questions. I suspect this is the first book of a trilogy and I'm looking forward to see more of this complicated, and dark world.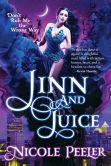 Nicole Peeler has a fun new series about Jinn and Juice (paper from Orbit). Leila amy work as a belly dancer but her thousand year curse to be a Jinn is almost over. As long as she isn't bound by a Magi, she'll return to human in only a few weeks. Alas, zan Sawyer, a sociologist trying to find the daughter of family friends stolen from Afghanistan binds her. He thinks she's been kidnaped, but the truth is far more complicated and related to the fact that Leila the only human Jinn (the rest are made of fire). The Jinn who cursed her needs her to break him out of Jinn prison. It all has to do with the fact that Pittsburgh's huge, magical fountain has been contaminated by the local steel and the only magical being who can draw on it without being poisoned is Leila. I had a grin the whole time I read this, and am looking forward eagerly to Leila and Oz's next adventure.

Most military sf star versions of marines who are gung ho and eager to kill. Casey Calouette finds a penal battalion filled with drug addicts, drunks, and even a few civilians. In a future filled with aliens and star gates, The human Vasilov Worlds have been fighting with insectoid Kadan for decades on a world they really don't want. However bravery in battle brings nobility, so they have happily fought a trench war. Unfortunately the Kaden have gotten powerful allies and they might just conquer that world and follow the humans to the settled areas. Colonel Cole Clarke has been observing another human fighting force, the Sigg Military. They won their war against other aliens. So Colonel Clark buys used tanks from them, and trains the penal battalion he's been assigned. The troops somehow have to keep their fellow fighters sober so they can survive. Steel Breach (ebook which I bought) is lots of fun in a future that promises great sequels.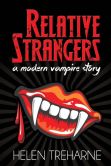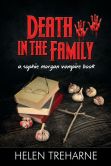 Helen Treharne approaches the vampire world refreshingly without romance. Sophie Morgan is a normal college grad at her first job in London, when she is attacked by vampires on vacation in Antwerp. She actually kills a few and meets a friend, Mickie who with his brother Sean are working as bartenders at the Pub she and her friend find. Going back home she discovers an upstairs neighbor is a vampire. These Relative Strangers (paper from CreateSpace Independent Publishing Platform) have to adapt to the idea of vampires who have no problems with sunlight, holy water, etc but can be killed with a tire iron. Mickie falls out of touch because of a Death in the Family (paper), Sean, and Sophie moves back to Wales with her mother, working in the family business of leasing homes. There is something special about her. It turns out she was conceived when her father was turning vampire. Her father comes to town and works with his still-human brother, a religious scholar, to decipher an stolen artifact suggesting that half-vampire human might be a danger to the hidden vampire community. I'm eagerly waiting for the third book.

Kelli Ireland tells a tale of an orphan whose father has sent hit-men after her. Supernatural beings live out in the open and the normal's call them freaks. Dani Fayel's parents abandoned her at age 8 and she was raised in foster care. She hid that her father was the archangel of death, and her mother was a banshee, a forbidden union. Then she worked at a Freaks' Fair as a stable hand hiding her ability to see people's future interaction with death. Then an incubus from Hell, Cain, a demon who had been a gladiator when alive arrives. Soon Dani gets attacked. The problem may be solved by Raising Cain (ebook from TKA Distribution) but the real problem is that Dani's father has fallen to Hell and his daughter, Dani, might be the key mentioned in prophecy to bring on the apocalypse. There's sexual tension, but not actual sex. Cain even throws her off a parking garage to force her into her hidden power. Fun. I'm interested in the sequel.

Steve McHugh has a nice thriller with Greek Gods. Sorcerers are immortal and the Greek Gods and Titans were immortal humans with magical powers. The Gods made Pandora the Prison of Hope. (Paper from 47 North) by putting a demon spirit in a human body. Pandora/Hope has the ability to coerce any into doing anything, with a limit that once released, she can't coerce them again. She was the weapon that ended the God/Titon war. Nate Garrett who was trained by Merlin 1600 years ago, is usually the one to capture her when she escapes. In 1936 she set a plan in motion to kill Hera at the Berlin Olympics. In modern times, her plot involves letting Cronus escape from Tarturus (an alternate realm that absorbs magical powers) to attack Hera. Soon Nathan and his friends have to fight witches, sorcerers and demons to get to the center of the plan and stop Pandora again. This is a fun, exciting tale and I'm planning to get a hold of the first two tales.

Dana Cameron completes her trilogy about an archeologist who discovers she is a werewolf and part of the Fangborn community (werewolves (who fight evil), vampires (who heal); and oracles. Zoe Miller has been hunting ancient relics that bind to her, giving her extra power. It has to do with the makers who apparently expected the Fangborn to rule Earth. It's time for the Fangborn to reveal themselves to the human community. Zoe, now the Hellbender (paper from 47North ) starts by teleporting to Japan, and then returns to the US to find the final pieces, is the only one who can find the balance between humans, Fangborn, and the makers. This was fun. I had read the first. Missed the second, and had no problems with this conclusion. Fun.

Peter V. Brett 4th tale of demons who attack people at night and are deflected by magical wards that started with The Warded Man (paper). The last tale, The Daylight War (paper) ended with both potential deliverers diving off a cliff while fighting. Now the two enemies have to work together and trap a demon at The Skull Throne (hard from Del Rey). In the mean time the daylight war between humans continues, with battles during the night when magic works. A major character dies along with many minor characters who have been relatively important. Good battle scenes make for exciting reading, but there's enough soap to slow the action down. No real cliff hangers except for a hint of a coming demon spawn similar to the attack that wiped out previous human civilization. The tale continues in book five.
Ellen Datlow has put together The Doll Collection (hard from Tor) filled with the best doll tales from top authors.
The Science Fiction Society will have its next meeting on, April 10th at 2015 at 8 p.m. at the Rotunda on the University of Pennsylvania Campus. Samuel Delany winner of four Hugo and two nebula awards will speak. He is currently the Director of the Graduate Level Creative Writing Program at Temple University and is a member of the Science Fiction Hall of Fame. As usual Guests are Welcome.
The Nebula award Novel nominees are: The Goblin Emperor, Katherine Addison (Tor); Trial by Fire, Charles E. Gannon (Baen); Ancillary Sword, Ann Leckie (Orbit US; Orbit UK); The Three-Body Problem, Cixin Liu ( ), translated by Ken Liu (Tor) (I couldn't finish); Coming Home, Jack McDevitt (Ace); and Annihilation, Jeff VanderMeer (FSG Originals; Fourth Estate; HarperCollins Canada) (first of a trilogy)
Dr. Henry Lazarus is a local Dentist and the author of A Cycle of Gods (Wolfsinger Publications) and Unnaturally Female (Smashwords). Check out his non-formula unified field theory at henrylazarus.com/utf.html