Henry L Lazarus Home
4603 Springfield Ave.
Philadelphia, PA 19143



Science Fiction for April 2014
by Henry Leon Lazarus


There is a transition going on between e-books and printed books. The question that occurs with Fantasy and Science Fiction is the drawings, drawings which e-books rarely do well. The real question is do you want a huge, thousand-page epic with interesting drawings or do you want to hold something much lighter to your eyes.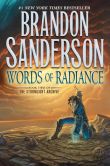 If George R. R. Martin died before completing his massive epic that is also a HBO show, the person most likely to finish the tale is Brandon Sanderson. He is a very prolific writer who most likely will complete his massive The Stormlight Archive. Words of Radiance (hard from Tor) mainly follows Shallon who had been mentored by the Princess Jasnah until a ship wreck leaves her stranded and she has to reinvent herself and come to turns with her growing powers. Kaladin, one-time slave turned king's bodyguard has to decide whether protecting a bad king is worth the effort. Both have to say the Words of Radiance (hard from Tor) to find themselves and their place in the growing future problems of their world. Roshar is a very strange world filled with non-human intelligence and creatures that survive with the power of stormlight. This is an intense read and Isaac Stewart's 20 illustration greatly add the read. Highly recommended to epic readers who don't mind huge volumes.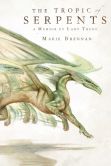 Marie Brennan's second tale of Lady Trent's second expedition to study dragons in a Victorian Age world sends her south of The Tropic of Serpents (hard from Tor) to deep jungle inhabited by hunter-gatherers who know their environment. The drawings here by Todd Lockwood are as wonderful as the prose. Mrs. Trent, with her two companions, has to deal with strange cultures, and new languages to find the secrets of the swamp wyrms. Add in yellow fever, leaches, malaria, and a small war, and she really has her hands full, especially when she glides with a glider made of dragon wings. Lots of fun.

Sara King's tale of Comander Zero's Return ( ebook from Parasite Publications which I bought) has him facing Earth's apocalypse. The Congress that governs the galaxy has only a few rules. Genetic modifications of intelligent species is not allowed. Earth being a minor, and unwilling member decides to challenge that rule with secret labs that cull the bad results. When discovered , Congress acts by destroying all power generators, military installations, and anything else that can contribute to civilization. Then they drop Kreenit monsters to kill most of the pupulation. Finally they shut the planet from civilization for seven centuries. Of course they return all troops drafted in to the Congressional Army. Zero finds himself trying to protect escaped laboratory specimens including one brainwashed to think she is a fearsome Jreet with powerful telekenic abilities, a women who can created food out of sand, and a telepath that can kill with a thought and hates killing. The group also hates wearing clothes. Alas this is only the first half of the tale. Absorbing and impossible-to-put down.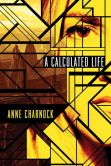 Anne Charnock tells of a utopian future where crime has been abolished through genetic alternation. Jayne is a synthetic human living A Calculated Life (paper from 47North). Her generation of synthetics have been made more human and as a result some are being recalled. She has been leased to a predictive agency Mayhew McCline, who are impressed with her ability to link trends, but her interaction with the human staff lead her to areas very dangerous for synthetic humans and to love. Fascinating.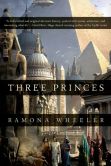 Ramona Wheeler tells of Three Princes (hard from Tor) in an alternate present in which Julius Caesar married Cleopatra 1877 years before and set up a permanent empire. They deal with the Russians, Prussians, and some empires in South America. Scott Oken, fourth in line to the British throne is a spy for that empire as is his friend and Mentor Makel Mabruke who has retired from running the spy school. When rumors that the Inca, ruler of Tawantinsuyu is building a rocket to send a man to the moon, they are sent as envoys across the Atlantic by Aeroship, a pretty sight navigated with intelligent parrots. There they meet Viracocha, second son of the Inca. The Inca's oldest son is the problem and soon all three find themselves in a Incan temple waiting to have their heart cut out. Add in a scheming Otto Von Bismark who has other plans for those rockets and you end up with a fun, James Bond type adventure where the background is neater than the standard plot. Fun.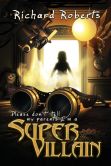 Thirteen-year-olds can be much wiser than their age. Penelope Akk might say Please Don't Tell My Parents I'm a Supervillain (paper from Curiosity Quills Press) because her parents are retired super-heroes. As Richard Roberts tells this fascinating tale, Penelope inherited her talents for building impossible gadgets from her father who actually understood what he was building. However when her talent first appears, her parents tell her it will take a few years for her to successfully master it. But she starts building things anyways, with a lab that her friends Claire and Ray help build in a deserted lair that Claire's mother, another superhero, knows about. The Claire doesn't make the cheerleader squad so Penelope makes a serum to make her stronger and Roy drinks so much of it that he becomes super strong. Then Claire gets a zero on her science fair project because the judges don't believe she made it herself and Ray wants to trash the exhibit. Before long she has gadgets for her friends, cool weapons that like like giant toys. But the head of the supervillains, Spider, wants her and her friends for a master caper blackmails her into helping. Lots of fun. I couldn't put it down.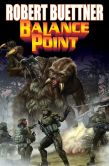 The monster on the cover of Rober Buettner's third tale of the Orphan Legacy series is one of the heroes. Mort is very intelligent and a super telepath and a great help to Jazon and Kitt when they go to Yavi to meet the dying woman who raised Jazon. The Yavi authorities have let the midwife go in the hope of drawing in Jazon and his parents who have the secret of ftl travel the Yavi's desperately want. Yavi is a heavily overcrowded planet where child murder is acceptable and the human worlds would be at a Balance Point (trade) if Earth's secret were shared. Lots of light fun.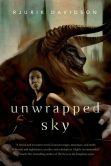 Rjurik Davidson has a neat world where Thaumaturagical magic has brought back an age of steam after a cataclysmic destruction that destroyed their gods. The magic comes with heavy price that includes warping those who use it heavily. Under an Unwrapped Sky (hard from Tor) tells of a revolution in the city of Caeli-Amur ruled by three families who use horrible magic against those who fight them. Boris originally worked in the tram works but has been moving up the hierarchy in one of the families as those above him are killed in the struggle. His wife long dead has left him lonely, so has fallen for a siren opera singer. Kata is a philosopher-assassin who infiltrates the revolutionists. Maximilian has found himself as a revolutionist but wants to lost thaumatical knowledge buried in Caeli-Amur's sister city deep in the ocean. Somehow it all comes together when the revolt occurs, leaving one of the three dead and the city at the mercy of other cities surrounding it. More of the tale will come. This is almost too dark for my tastes, but I kept reading.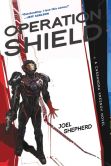 Revolution is the problem facing the new federation GI Cassandra Kresnov has returned from Torahn with two hundred GI's and three children used to surviving on the streets. The capital world of Callay is supposed to be a safe environment for the children, but information leaked from the Guild has the potential of start a new league-federation war, something a group of delegates, who also distrust GI's don't want. So they launch Operation Shield(trade from Pyr) to control the Federation Government and kill Cassandra's friends. As usual Joel Shepherd has an exciting tale that's hard to put down. Fun.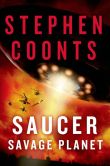 About a decade ago Stephen Coonts told about a flying Saucer (paper), 140,000 years old, discovered in the Sahara. Rip Cantrell discovered it, got it working, and with test-pilot Charlotte Pine gets away from an evil rich man. In Saucer: The Conquest another saucer in Area 51 is stolen by a bad man and ended up deep in the pacific. Now in Saucer: Savage Planet (paper from St. Martin's Griffin ) we are introduced to a 1300 year-old pilot marooned on Earth and looking quite human. The whole world wants the medicine that keeps him from aging, some actually trying to capture him. Other aliens are on the way. This is the conclusion of a fun series. It's a bit light, but still fun.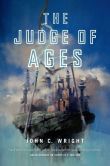 John C. Wright is a difficult writer who is best mined for the endless ideas he throws out. Menelaus Montrose was on the starship Hermetic which brought back not only anti-matter for cheap energy, but also news that Earth was going to be invaded seven thousand years later. Menelaus had injected himself with a serum that made him both mad and a genius, allowing him to translate the information left by the galactic civilization at the star. His madness was cured on their return when the starship crew conquered Earth with the new technology they brought. Then his wife left him to go to the Galatic center to get help from Earth. Melenlaus put himself to sleep in a collection of tombs as eight different versions of humanity rose and fell. In the third volume of this trilogy Menelaus has been awakened on a dead earth covered with ice and snow, by Archeologists digging up the tombs looking for The Judge of Ages (hard from Tor). His main enemy Ximen del Azarchel has had as much to do with the various species of humanity as Menelaus has. So Menelaus has to discover what is going on and survive the various attempts on his life. But each reveal allows a bigger counter reveal until my head spun. This book is unreadable without the previous two books in the series.

Michael R. Underwood has a short geekomany tale of Ree Reyes who is having an especially bad Saturday night at her job at Grognards when the bar, magical-gathering place is attacked by hordes of trolls, a Minotaur, and one pissed off witch who wants them all dead. In Attack the Geek (ebook from Pocket Star) the action doesn't stop and is as much fun as the books in the series. It will help to have read Geekomancy (ebook) first.
Baen has reprinted A. Bertram Chandler's fifth John Grimes collection Upon a Sea of Stars (paper); two Andre Norton tales Children of the Gates (paper); and Robert A. Heinlein's classic Waldo and Magic, Inc. (Trade).
The Nebula Award nominees are: We Are All Completely Beside Ourselves, Karen Joy Fowler (Marian Wood); The Ocean at the End of the Lane, Neil Gaiman (Morrow; Headline Review); Fire with Fire, Charles E. Gannon (Baen); Hild, Nicola Griffith (Farrar, Straus and Giroux); Ancillary Justice, Ann Leckie (Orbit US; Orbit UK); The Red: First Light, Linda Nagata (Mythic Island); A Stranger in Olondria, Sofia Samatar (Small Beer);and The Golem and the Jinni, Helene Wecker (Harper). I've read and reported on only three.
The Science Fiction Society will have its next meeting on The Science Fiction Society will have its next meeting on April 11, 2014 at 8 p.m. at International house on the University of Pennsylvania. Campus,. Steve Vertlieb and Craig Ellis Jamison of the online Gull Cottage Sandlot movie magazine will speak . As usual Guests are Welcome. As usual Guests are Welcome.
Dr. Henry Lazarus is a local Dentist and the author of A Cycle of Gods (Wolfsinger Publications) and Unnaturally Female (Smashwords).