Henry L Lazarus Home
4603 Springfield Ave.
Philadelphia, PA 19143



Science Fiction for February 2015
by Henry Leon Lazarus



I don't always include books in this column on Fantasy and Science Fiction that I buy for light reading. These are light fun and well-written books that get pushed out of the column because of serious books supplied as review copies. Many are self-published on Amazon.

Sierra Dean has been telling the adventures of Secret McQueen a young woman who is half vampire (though still mortal) and half werewolf. When the series started was working for the vampire tribunal as their executioner for vampires gone rogue and knew nothing about the werewolf community. It's been eight books. In A Secret to Die For (ebook) Secret faces the worst things she has ever faced, corpses raised by a necromancer bike gang that is terrorizing New York City. Not only that but her secret dual existence is in the open, To survive she has to convince vampires to work with werewolves despite the fact they hate each other. And she needs extra powers from the Fae with a price too high. It's a nice and satisfying ending for an exciting and fun series.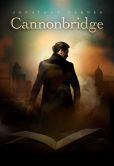 Matthew Cannonbridge (paper from Solaris) is a major literary figure of the nineteenth century that you've never heard of He was at the gathering where Mary Shelly invented Frankenstein; gave money to Charles Dickens to get him out of the poor house, and got drunk with Edgar Allen Poe on his final drinking spree and visited Oscar Wilde in prison. Until in modern times Toby Judd discovers he is a fraud and finds himself chased all over England by forces that need to maintain the illusion. According to Jonathan Barnes there is magical sand from an unused island off the coast of England. But there is also deviltry and evil. Fascinating.

Brian Staveley continues his tale of treachery that started with the assassination of an Emperor, causing his three children to become The Emperor's Blades (paper). It was necessary for Kaden to study with the Shin monks to learn a quiet peace that would let him pass through teleporting gates scattered throughout the empire. His circuitious path sends him eventually to the capital Annur where he weaves a hard path between enemies trying to kill him. His brother Valyn, the trained Kestral wing leader (they fight from huge birds) who saved him by ignoring orders has a hard path home through the bloody Urghol and finally to face his father's killer on the battlefield that holds the Urghol back. His sister, Adare, thinking Kaden, flees to worshipers of Intarra whos high priest she had destroyed in the first tale, but learned that another, the head of her father's army is actually responsible for her father's death. All three must face The Providence of Fire (hard from Tor) in this second book of an exciting trilogy.

Aria Marmell's tale of the thief Widdershins who, because of the death of all its other followers, has been linked to a god Olgun who gives her extra lift and agility. Olgun is only a minor God and not part of the pantheon of gods. But in this fourth and final adventure Widdershins returns to her home town of Davillon to find that demons have been raised against the population. She still has her friends and allies, including the local Bishop, but these are strong demons raised by her worst enemy. Only a Covenant's End can save her and her town. Fun conclusion to an exciting series.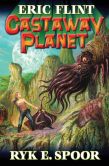 Eric Flint and Ryk E Spoor borrow heavily from Swiss Family Robinson with a tale of the Kimei and an European, squid-like Bemmie, Whips are together in a life boat drill on their colony ship when their life boat is suddenly cut loose. They manage to make it to a nearby sun and crash land on a Castaway Planet (hard from Baen) with a floating continent. They have connected earphones and some high-tech tools. They are also protected by nanopods in their blood help heal. With two parents, two teenagers and a nine-year old they have to find food and make shelter and survive the wild predators. This take place decades after their previous trilogy about finding alien technology on Mars and Europa and shares none of the same characters. Lots of fun.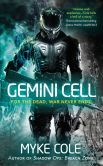 Myke Cole starts a prequel to his series about magic returning to the real world and the marines who have to fight in this changed environment. US Navy SEAL Jim Schweitzer is at the top of his game when bad guys attack his home and kill him. The U. S. Has a Gemini Cell (paper from Ace) division that raises his dead body, using the dead soul of a jinn, Ninip who had lived centuries before. Other warriors raised soon lose their bodies to the jinn, but Jim fights against this ancient warrior who only wants to kill. Especially when he learns his wife and child are potentially under attack. Exciting but I don't identify well with zombies.

Adam Roberts borrows from Jules Verne in a strange tale about Twenty Trillion Leagues Under the Sea (paper from St. Martin's Griffin). On June 27th 1958 a secret French nuclear submarine, the Plongeur, dived too deep and all nine crew and observers were lost at sea. Unfortunately that was not true because the ship was directed through a portal to a universe of water. Pulled down past underwater suns, and attacked by creatures hunting its air, its crew doesn't understand what his happening. The captain dies from internal fires, the lieutenant goes nuts and some of the rest of the crew become religious fanatics. An observer from the French Government finds himself shot and then tossed out into the endless sea. Yes there's a tie in to Captain Nemo in an unexpected way. This was a bit dark for my taste, but impossible to put down.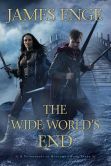 James Enge tells how his character Morlock, son of Merlin, got exiled from the Warded Lands where he was raised. He's been happily married to Aloê for a century when the wardlands get invaded by Khnauronts whose staffs suck life force. They's been send by a dragon who wants to leave the world before the sun is destroyed. Morlock, his dwarf friend Deor, and a cured Khnauront, Kelat set off to find the Dragon. Along the way they discover that Kelat is a prince (one of three hundred) and add Morlock's sister Ambrosia to their party heading to The Wide World's End (trade from Pyr). In the warded lands Aloê investigates a strange murder in which the victim dies several days after his actual murder. It's a murder with ties to many of her friends. Mr. Enge has a lot of fun with his background with whole cities becoming cannibalistic to survive the sun's death. At bit light but fun.
The Science Fiction Society will have its next meeting on, February 13th 2015 at 8 p.m. at International house on the University of Pennsylvania Campus. The guest speaker is Rosemary Edghill, writer and editor whose works are usually a lot of fun. As usual Guests are Welcome.
Dr. Henry Lazarus is a local Dentist and the author of A Cycle of Gods (Wolfsinger Publications) and Unnaturally Female (Smashwords).