Henry L Lazarus HOME
4603 Springfield Ave.
Philadelphia, PA 19143

Science Fiction for January 2013
by Henry Leon Lazarus

Mixing genres is difficult, but fantasy and Science Fiction are very welcoming to tales that mix in mystery or even classic western When the mixture works, it's like a well mixed ice cream soda.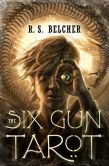 R. S. Belcher's The Six-Gun Tarot (hard from Tor) takes place a few years after the civil war, in a town in the Nevada desert. Golgotha is home of a played-out silver mine, a sherif who can't be killed and his half-Indian deputy who talks to coyotes as a brother. It's a place that attracts strange magic like the golden books of John Smith held in trust by Golgotha's gay, Mormon mayor. When the mine is lost in a poker game to a hapless banker, later murdered, strange people come to town. There's an ancient evil stirring under the mountain. It's been around since before creation and if it can't be contained again. Soon the town's people have been taken over by the evil, and only silver bullets can kill them. Finally only the sherif, his deputy, a fifteen-year old boy who revenged his father and recovered his magical artificial eye, and the banker's wife who was trained as an assassin, can save the world. Impossible to put down and an amazing first novel. R. S. Belcher is an author to watch.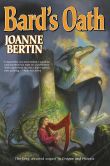 I read Joanne Bertin's first two tales of were-dragons in a fantasy world twice. The Last Dragon Lord (Tor)introduced to Maurana, a ship's captain who discovers the hidden dragon inside her. Then the second tale sent them to another country where the inhabitants have locked up both a Dragon and Phoenix (Tor) and our friends have to rescue them. Now everyone is home and enjoying a horse fair. There are jokes about people not recognizing Raven's Llysanyin mount because they usually only bond to Dragonlords and there's a bully of a nobel's son who causes some problems. But true evil arrives in the form of a master Bard, Leet, on a mission of revenge. He has a harp made out of evil wood that can force people to do evil. He lsot a grandson to a mad horse and he want's the horse and all those responsible for his grandson's death to die, even if it breaks his Bard's Oath (hard from Tor). I can only hope this isn't the last rale set in this fun world.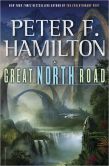 Peter F. Hamilton writes monstrously long tales. Great North Road (hard from Del Rey) is set in 2143 on St. Libra, a warm world with only plant life orbiting Serius. There are gates to ship the biofuel grown on St. Libra back to both Earth and other colony planets and that has made the North family of clones (the only clones) very rich. Then the dead body of a North clone is found. It was murdered by the same method used two decades before, a murder of fourteen people. The only survivor had been accused of the murder and locked up. Now, as the only witness she is sent on an expedition to the far end of St. Libra, a part of the planet never explored, to look for the monster. The expedition is attacked, the weather on St. Libra suddenly changes to very cold and you get the classic tale of a polar expedition being hunted by a monster. In the meantime the quest to discover the murder uncovers a horrible plot. While the monster seems designed to fit the story constraints, the characters who confront various forms of it, are quite three dimensional. The tale is impossible to put down.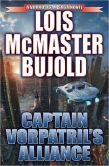 Lois McMaster Bujold returns to her Vorkosigan future tales. Ivan has always been a bit of a joke in the series. When a friend asks him to look after a damsel in distress, he ends up defending her from immigration by marrying her, something he thinks is temporary because his uncle, a judge on Barrayar. What he doesn't count on is that his mother, Miles, and the Emperor Gregor all like the girl and want the marriage to continue so that Ivan will settle down. Then the in-laws arrive, and, with the help of Captain Vorpatril's Allience( hard from Baen) to protect them, set on finding lost treasure buried under Imperial Security Headquarters. What happens then is a solid giggle and a must for fans of this fun series.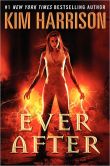 Kim Harrison continues the tale of Rachel Morgan, a witch who because of genetic engineering that saved her life, is the only demon in our reality. The others live in the Ever After (hard from Harper Voyager), a place that powers magic. When energy starts leaking from Ever After, dooming the place, Rachael is blamed. But the problem is really caused by a powerful demon who is kidnaping babies with the same genetic flaw that almost killed Rachael. The her friends are kidnapped and Rachael has to figure out how to save her universe and the Ever After by creating magic far more powerful than anything she has ever attempted before, magic that can kill her.This is just as much fun as the previous ten in the series and I am still looking forward to the next.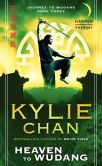 Harper Voyager has brought Kylie Chan's tales of a schoolteacher turned nanny who discovers that her boss is a real chinese god and a giant turtle from Australia.. In the first trilogy he was very week and Emma fighting methods to kill demons. Then he disappeared to recover his energy. In Heaven to Wodang (paper) the third book of the final trilogy, John Chen is finally back and he and Emily face the evil Kitty Kwok while trying to keep their followers safe. But not everything ends happily because there is a third trilogy in the process of being written. Unlike the first two trilogies which came out monthly in paper because they had already appeared in Australia, I suspect that we will see the final books of the trilogy out in hard cover, one per year. I've enjoyed these so far, with their fun view of Chinese mythologic figures in the modern world. It is, alas, getting a bit repetitive and overly long. Fans should keep going.S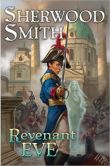 Sherwood Smith concludes her trilogy about Kim, an American related to the royal family of Dobrenica which started with a modernization of the Prisoner of Zenda. Revenent Eve (hard from Daw which I bought) is mainly about her ancestor Aurélie, born in Jamaica and sent to England when times turn bad at the turn of the nineteenth century. Kim, on the verge on her wedding, steps through a magic door and becomes Aurélie's ghost advisor as she grows up, is thrown out by her English cousins when they realize she is the daughter of an ex-slave and somehow manages to make her way to Napoleon's court where for a time she is a lady-in-waiting. Of course there's true love waiting her in Dobrenica. I wasn't impressed with the last section which sends all our characters into a magical land of demons. It was a bit confusing and a far cry from the fun historical tale that comprises most of the book. Fans of the series will like it.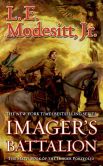 One of my favorite writers is L. E. Modesitt, Jr. His latest, the third in a quintology, tells of Lydar during the wars of consolidation. Quaerit is in command of an Imager's Battalion (hard from Tor)attacking Bovaria in this third part. The tale is mainly about battles and how Quaerit improves his, and the imagers under him, imaging skills Fans of this series will really love it as I did.
The Science Fiction Society will have its next meeting on January 6th at 8 p.m. at the International House on the University of Pennsylvania. Campus for the Annual Election Meeting and on January 27th at the Rotunda on the University of Pennsylvania. Campus. Shawna McCarthy, who edited Asimov's and is now an editor and agent will speak. As usual guests are welcome.
Dr. Henry Lazarus is a local Dentist and the author of A Cycle of Gods (Wolfsinger Publications) and Unnaturally Female (Smashwords)